134th Infantry Regiment Website

"All Hell Can't Stop Us"
Capt James M Watkins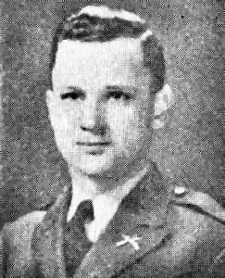 Company F - 320th Infantry Regiment
James Michael Watkins, Jr, son of James Michael and Mina Mae (Robinson) Watkins, was born June 22, 1911. He attended Emporia High School in Emporia, Virginia and William and Mary College. He married Juanita Maxine Bradley December 20, 1941 in Stanly, North Carolina. He entered military service January 14, 1941 at Fort Meade, Maryland and served in Company F, 320th Infantry Regiment during WWII. He was awarded a Silver Star Medal for gallantry during a crossing of the Saar River December 8, 1944, was wounded in action January 4, 1945 in the vicinity of Harlange, Luxembourg but remained on duty, and was killed in action March 5, 1945 in the vicinity of Kamp-Lintfort, Germany. Captain James M Watkins was awarded the Distinguished Service Cross for extraordinary heroism during the battle in which he lost his life. He is buried at Netherlands American Cemetery, Margraten, Netherlands.


Distinguished Service Cross
The President of the United States of America, authorized by Act of Congress July 9, 1918, takes pride in presenting the Distinguished Service Cross (Posthumously) to Captain (Infantry) James M Watkins (ASN: O-359346), United States Army, for extraordinary heroism in connection with military operations against an armed enemy while serving with the 320th Infantry Regiment, 35th Infantry Division, in action against enemy forces on 5 March 1945. Captain Watkins' outstanding leadership, personal bravery and zealous devotion to duty at the cost of his life, exemplify the highest traditions of the military forces of the United States and reflect great credit upon himself, the 35th Infantry Division, and the United States Army.
General Orders No. 143, Ninth US Army, 1945
Silver Star Medal Citation
Captain James M Watkins, O359346, Infantry, United States Army, for gallantry in action near * * * , France on 8 December 1944. Captain Watkins, Commanding Company F, 320th Infantry, led his unit in an assault crossing of the Saar River, up the steep bank of the opposite shore, over enemy trenches, and through wire entanglements to the far crest of the ridges, from which he planned to attack the enemy flank. As forward elements commenced scaling the ridge, a group of the enemy attacked in a half-track vehicle. Realizing the peril to troops still crossing the river should the enemy vehicle reach a position overlooking the river, Captain Watkins and three enlisted men remained in position in a shallow trench. From this position, Captain Watkins directed artillery fire on the vehicle as it moved forward. Under cover of machine gun fire, five German soldiers dismounted and attacked the smaller group. Captain Watkins killed the enemy leader, an officer, while his men killed the other four Germans. The enemy half-track reached a point but twenty five yards distant when it was demolished by a direct hit from artillery fire. Captain Watkins had continued to adjust their fire throughout the action. His aggressive leadership, intrepid bravery and determination for the successful accomplishment of his mission, are in accordance with the highest traditions of the military services.
General Orders No. 5, Headquarters 35th Infantry Division, 14 January 1945
Thanks to Pam Thomsen for this picture. She is the granddaughter of Pfc. John Pergolizzi, 60th Combat Engineers Combat Battalion, 35th Infantry Division who was killed in action October 10, 1944.