134th Infantry Regiment Website

"All Hell Can't Stop Us"
Pfc Larry M Watson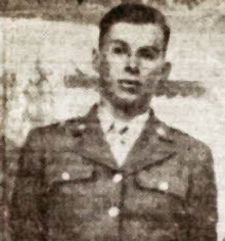 Company L - 320th Infantry Regiment
Larry Mitchel Watson, son of Wilbur Bethea and Ila Mae (Culler) Watson, was born June 4, 1925 in Stokes County, North Carolina. He registered for the draft June 4, 1943. He married Pauline Ashburn September 18, 1943 and the couple had one child, a son Mitchel Watson. He was inducted into the Army July 21, 1944 at Fort Bragg, North Carolina and after training departed for the ETO. He joined Company L, 320th Infantry Regiment from the 53rd Replacement Battalion on January 22, 1945 and served as a Rifleman. He was promoted to Private First Class March 1, 1945. Pfc Larry M Watson was killed in action March 28, 1945 in the vicinity of Dinslaken, Germany. He is buried at Pinnacle United Methodist Church Cemetery, Pinnacle, North Carolina.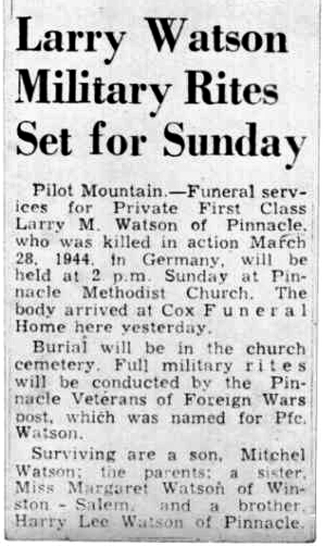 Thanks to Pam Thomsen for this picture. She is the granddaughter of Pfc. John Pergolizzi, 60th Combat Engineers Combat Battalion, 35th Infantry Division who was killed in action October 10, 1944.