134th Infantry Regiment Website

"All Hell Can't Stop Us"
Pvt Willie W Wilkerson, Jr
Company L - 320th Infantry Regiment
Willie Wesley Wilkerson, Jr, son of Willie Wesley and Carrie (Williams) Wilkerson, was born September 12, 1925 in Lanett, Alabama. He registered for the draft September 13, 1943. At the time he was working at the Lanett Cotton Mill. He was inducted into the Army December 14, 1943 at Fort McClellan, Alabama. He joined Company L, 320th Infantry Regiment from the 38th Replacement Battalion on November 17, 1944 and served as a Rifleman. He was wounded in action by shrapnel on January 1, 1945 while fighting in the Ardennes, but he remained on duty. Several days later he was reported missing, but it was later confirmed that he had been killed in action on January 7, 1945 in the vicinity of Baschleiden, Luxembourg. Pvt Willie W Wilkerson, Jr is buried at Oakwood Cemetery, Lanett, Alabama.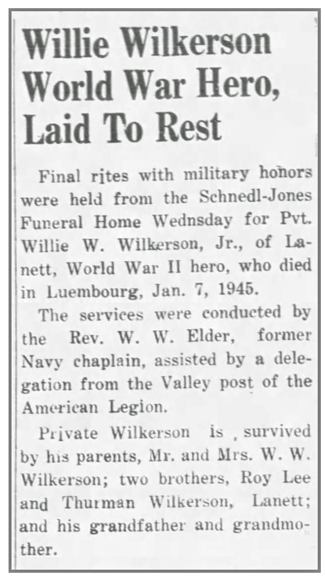 The Chambers County News, Lanett, Alabama - August 19, 1948