134th Infantry Regiment Website

"All Hell Can't Stop Us"
Pfc Lonnie V Williams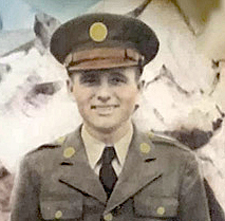 Company G - 320th Infantry Regiment
Lonnie Valentine Williams, son of Jesse Steven and Ora (McElroy) Williams was born February 14, 1919 in Elk City, Oklahoma. He moved to Texas sometime between 1930 and 1940 and registered for the draft October 16, 1940. At the time he was living in Brazoria, Texas and working for the Austin Construction Company in Freeport, Texas. He married Juanita Russell August 19, 1941 and the couple had one child, a daughter Patsy Aneida Williams. He was inducted into the Army on January 7, 1942 at Los Angeles, California. He served as an Ammunition Handler in Company G, 320th Infantry Regiment and was promoted to Private First Class on July 1, 1944. Pfc Lonnie V Williams was killed in action July 25, 1944 in the vicinity of St Lo, France. He is buried at Fort Sam Houston National Cemetery, San Antonio, Texas.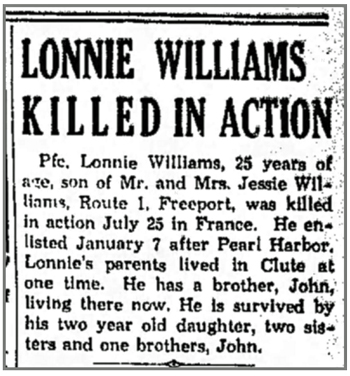 The Freeport Facts, Freeport, Texas - August 17, 1944