134th Infantry Regiment Website

"All Hell Can't Stop Us"
2nd Lt Otto T Willrich, Jr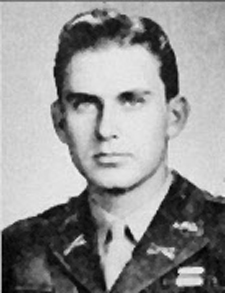 Company G - 320th Infantry Regiment
Otto Thomas Willrich, Jr, son of Otto Thomas, Sr and Anna Eliese (Von Minden) Willrich, was born in La Grange, Texas on January 12, 1923. He attended Texas A&M University. He entered the Army in May 1943 and was stationed at Fort Sam Houston, Texas, attended Officers Candidate School at Fort Benning, Georgia and was commission as a 2nd Lieutenant January 21, 1944. He arrived in France on July 7, joined Company G, 320th Infantry Regiment from the 86th Replacement Depot on July 15, and was awarded the Combat Infantryman Badge July 25, 1944. 2nd Lt Otto T Willrich, Jr was killed in action August 17, 1944 during an attack on Chateaudun, France. He is buried at La Grange Cemetery, La Grange, Texas.