134th Infantry Regiment Website

"All Hell Can't Stop Us"
Pvt Gorman L Zumbrum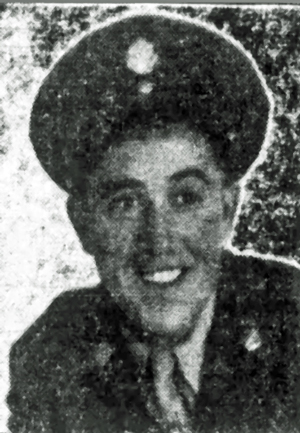 Company L - 320th Infantry Regiment
Gorman Luther Zumbrum, son of William Scott and Ida Belle (McCarthy) Zumbrum, was born in York, Pennsylvania. The birthdate listed on his draft registration is October 17, 1919, but the birthdate on his headstone is October 22. He married Jeanie Mary Schnleitner July 6, 1940 in Stafford, Virginia. The couple had one child, a son Gorman, Jr., born March 1, 1941. He registered for the draft July 1, 1941. At that time, he was employed by York Safe and Lock. He was inducted into the Army on March 27, 1944 at Fort Meade, Maryland and trained at Camp Wolters, Texas and Fort Meade.
Pvt Gorman L Zumbrum joined Company L, 320th Infantry Regiment November 17, 1944 from the 38th Replacement Battalion and served as a Rifleman. He was reported missing in action 6 days later, as of November 23. At that time they were fighting in the vicinity of Morhange, France about 30 miles southeast of Metz. It was later confirmed that he had been killed in action by artillery shell fragments on November 30, 1944. He is buried at Mount Rose Cemetery, Spring Garden Township, York County, Pennsylvania.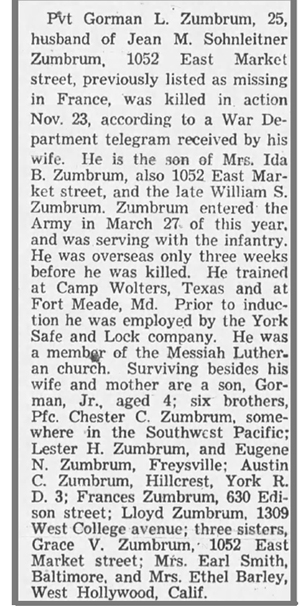 The York Daily Record, York, Pennsylvania - December 18. 1944
Thanks to Pam Thomsen for this obituary and picture. She is the granddaughter of Pfc. John Pergolizzi, 60th Combat Engineers Combat Battalion, 35th Infantry Division who was killed in action October 10, 1944.