134th Infantry Regiment Website

"All Hell Can't Stop Us"
T/4 Delbert W Mullenberg
35th Quartermaster Company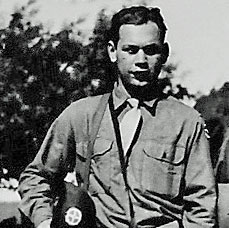 T/4 Delbert W Mullenberg was born in Cedar Falls, IA in 1922, as one of eight children. He was drafted into the army during WWII, joined the 35th Quartermaster Company, and fought in Germany and France.
After the war he changed his name from Mullenberg to Mully and married his college sweetheart, Vida Gangstad. He graduated from Iowa State Teacher's College and began his teaching and coaching career which eventually led him to Rochelle, Illinois. There, he was head basketball coach for 10 years, later becoming athletic director until his retirement in 1984. After enjoying their Wisconsin cabin for several years, he and Vida moved to Azle, Texas where he lived for the last 25 years. The couple had 3 daughters and numerous grandchildren and great-grandchildren. According to those who knew him, he lived by the mantra, "Everything will work out fine", and it usually did!
Del Mully passed away on July 14, 2020. He was 97 years old. A graveside service with military honors was held at Dallas-Fort Worth National Cemetery

F
From the collection of Del Mully. Click on picture to open a full size version of the image. Thanks to his grandson Jeff Eich for these pictures from his grandfather's collection.