134th Infantry Regiment

"All Hell Can't Stop Us"
Cpl. Peter P. Polosky
60th Engineers Combat Battalion, Company C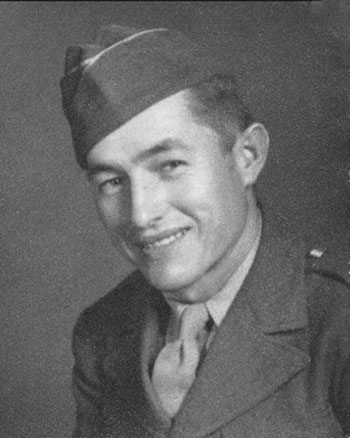 Corporal Peter P. Polosky was from Nanty-Glo, Pennsylvania. He was 26 years old, married, with a 6 month old baby when he was drafted. He worked in the coal mines in western Pennsylvania. Knowledge of explosives and engineer viewpoints were a plus for the unit he was assigned to. Three months after he was drafted, in early 1943, FDR put a halt on drafting miners as coal production for the war effort was flagging. Corporal Polosky passed away in 1995.
Thanks to Art Wilson, son of Pfc Robert A Wilson for this photo
Thanks to Jason Polosky, Cpl. Polosky's paternal grandson, for the picture and information about his grandfather.