134th Infantry Regiment

"All Hell Can't Stop Us"
1st Lt. Maurice P. "Algie" Alger, Jr.

654th Tank Destroyer Battalion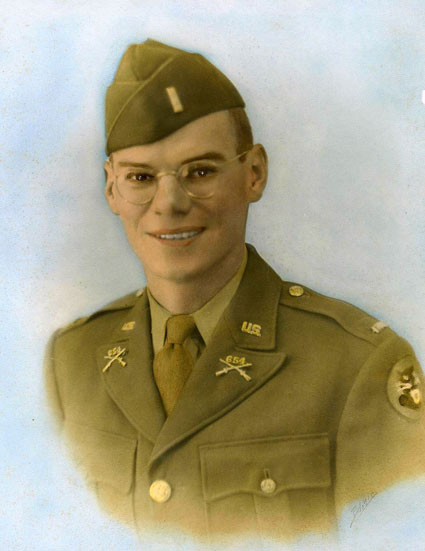 Maurice Plaisted Alger, Jr., Cocoa, Florida, "last furlough home" - Circa September 1943
Maurice P. Alger, Jr. was born to parents Captain Maurice P. Alger, Sr. (USA Philippine Constabulary) and Nurse Anne Enesly Alger on 29 September 1920 in Cebu City, Cebu Island, Philippines. He received his early education at Brent Episcopal School in Baguio, in the Philippines from 1931 through 1935.
In 1936 Maurice returned to the United States for further education. He attended his father's alma mater at "The Manlius Military School" in Manlius, New York from 1936 to the fall of 1939. He received the nickname "Algie" from a close friend at Manlius and the name stuck with him till the end of his life. As a Sergeant in the school's ROTC program Algie led Charlie Company. In the summer of 1939 he was selected to attend Officer's Basic Training at Camp Plattsburg, New York. While there he qualified as an Expert, Sharpshooter and Marksmen at the age of 18. Algie graduated from Manlius in the fall of 1939 with a Scientific Degree.
During his tenure at Manlius "Algie" played Football, Golf, and was a member of the Ski Club, and the coveted Ski Platoon Unit. He won the "Scholarship Medal" in 1937, the "Military Merit Medal" in 1937, and 1940. Maurice and his team won the Company Football Medal in 1939. He and his Father enjoyed playing golf together, and Maurice was a member of the golf team in 1939 and 1940. Maurice served on the Wildcats Football Staff, from 1937-1938. "Algie" was also an avid member of the Ski Club and served on the Windmill Newspaper Staff in 1938-1939. Cadet Alger had a great love and talent for mathematics. On his summer breaks from Manlius, he worked as a math tutor teaching calculus and trigonometry. He won the Obrig Mathematics Trophy for being the most proficient Cadet in mathematics. Maurice was very active in sports and his Company won the Intramural Shield Award for the highest standings in Inter-Company Sports.
Cadet Alger had the great honor to be the Guidon Bearer for his graduating class. As such, he carried the unit flag - a great source of pride and long tradition for the unit. The Guidon Bearer stands in front of the unit, along side the Commander to provide a visual signal accompanying his verbal commands. There were sixty-one students in Sergeant Alger's graduating class. Many of them went on to attend Ivy League Colleges and other prominent universities. Four of his classmates also died in service during WWII.
Following graduation at The Manlius School, Maurice received his commission as a Second Lieutenant, US Army Infantry Reserve - the commission to be effective when he reached the age of 21.
Thereafter, the prestigious Rensselaer Polytechnic Institute or RPI in Troy, New York accepted Algie into their Mechanical Engineering Program in the fall of 1939. He attended RPI from fall 1939 through spring of 1942. During this period he served as the President of Alpha Kappa Pi Fraternity.
Second Lieutenant Maurice P. "Algie" Alger, Jr. entered Active Infantry Reserve status on 20 February 1942 at the age of 21. At that time the army wanted him to serve duty at West Point but at the last minute ordered him to Camp Gordon, Georgia to serve with the 654th Tank Destroyer Battalion. He arrived there on 1 April 1942. Algie was the youngest officer in the battalion.
While at Gordon he pulled duty primarily in A and B Companies and briefly in C Company all as platoon leader. He also served as Battalion Adjutant. As a junior grade officer in 1943 he was "twice" selected to perform temporary duty as an UMPIRE with the Second Army Umpire School at Camp Rucker, Alabama and Camp Forrest, Tennessee. He UMPIRED for the 806 and 608 Tank Destroyer Battalions Combat Firing Tests. Upon his return to Camp Gordon he was assigned to lead another unit - in the Reconnaissance Company, First Platoon.
On 1 April 1944 Algie was assigned back to B Company as their Executive Officer while the unit was in Moy, Northern Ireland. Algie served as EX OFF of B Company for only ten days before he was killed in action at the age of 23 with his close friend First Lieutenant David J. THELEN the platoon leader of B Company, Second Platoon in St. Lo. They were the first casualties of their company.
During my many years of research, I was able to locate and clearly identify my uncle in several USA Signal Corps photographs taken just three days before his death. One photo was taken on Hill 122 the others we're taken while he and his unit entered St. Lo with captured German POW's.
~On 21 July 1944, only ten days after receiving his new position, Second Lieutenant Alger and his best friend were killed when a single German "88" artillery shell struck the pavement in front of their M10 tank destroyer. Just as they dove under the fateful destroyer for cover, the tank commander heard their last words - "I'll beat you under". The brave hero's had saught cover as trained under their parked tank destroyer during a heavy artillery and mortar barrage. My uncle had come to move "his friends" destroyers to a much safer locality at the time of their deaths. The men were defending a vital forward position in the city of Saint Lo, France. The single shell killed Algie, his best friend First Lieutenant David J. Thelen, and seriously wounded Sergeant Bruce L. Foster. After the lieutenant's deaths the (4) destroyers movement never came! ~
They were true and valued leaders, and to the horror of their Company Commander who had sent them on their mission, they became the first casualties in the unit. The German shelling was so severe that any attempt to recover their bodies was repulsed countless of times.
On the evening of the second day the Battalion Commander - Lieutenant Colonel William Vincent Martz personally lead a volunteer recovery team into Saint Lo to recover them. The team consisted of (9) nine Reconnaissance men and one (1) Headquarters soldier all from the battalion. This heroic recovery team on foot did so under a hail of accurate German steel. The team pulled through it fine and COL Martz was awarded an Oak Leaf Cluster to his Silver Star Medal while the men he led were awarded the Bronze Star Medal for their efforts.
The two fallen friend's remains are interned in Normandy American Cemetery at Colleville-Sur-Mer, France.
W
ritten by Ann Gaule, 654th TD Bn, Researcher/Author, niece of 1st Lt. Maurice P. Alger Jr.
2nd Lt. Maurice P. "Algie" Alger, Jr.
Arrival at Camp Gordon, Georgia - Circa April 1942
"Algie" by Half-track with mounted 76mm gun - "Umpiring Duty" during Mighty Maneuvers at Camp Forrest, Tn. circa 1943
All photographs of Algie above were taken on 18 July 1944 three days before his death by a 165th U.S. Army Signal Corps Photographer, Courtesy of Combat Reels.

The young blonde "Grenadier" carrying the sign was captured by the first U.S. Soldiers "Algie" and Company to enter Saint Lo, France from the North on 18 July 1944. In the same footage you see the same proud but smiling lieutenant. . . "Algie" had made it to Saint Lo, Sadly, three days later he was KIA near the Notre Dame Cathedral. I met his Company Commander CPT. George A. Stevens back in 2007 and I showed him the photographs without naming any names to him. Upon seeing the photographs he replied - OH, that's "Alger" - Isn't it! - I haven't seen him for over 63 years!

SAINT LO REMEMBERS THEIR FALLEN LIBERATORS

Lieut-Colonel William Vincent Martz, USA, Cavalry 654th Tank Destroyer Battalion, Battalion Commander (June 29, 1943 - August 8, 1944) - Circa 1943 - 1944
The photograph above captures a similar . . . "Proud but Relaxed & Smiling Lieutenant". 2LT. "Algie" Alger at Camp Gordon, Georgia Officer's Club, 21 years old, Circa 1942
The photographic arrangement above of the fallen lieutenants "Alger & Thelen" was provided by Monsieur Jean Mignon the curator of the museum "Chappelle de la Madeleine" near Saint Lo, France. Photographs provided by Lieutenant Thelen and my families.
Cadet W. V. Martz - USMA Class 1935

Father & Only Son
Silver Star Medal Citation
Lieutenant Colonel William V. Martz - Cavalry, United States Army, OCL for gallantry in action in the St. Lo and Mortain sectors, France, during the period 11 July to 8 August 1944. On 22 July 1944 he led a patrol in the successful evacuation of the bodies of two officers from a position exposed to observed enemy fire. Throughout the period 11 July to 8 August 1944, he visited advance tank destroyer positions on occasions when enemy fire was so intense that the destroyer crews could not leave the comparative safety of the destroyers. His sound employment of the tank destroyers, skillful and courageous leadership, and zealous devotion to duty, were an inspiration to his troops, and responsible for the success of numerous battalion missions during the period mentioned. Colonel Martz has been missing in action since 8 August 1944, when he made a personal reconnaissance into enemy-held territory in the vicinity of Mortain (St. Jean du Corail). Entered military service from Pennsylvania. GO No. 27 Hq 35th Inf Div 29 Aug 1944
For many days the men of "Bravo Company" were forced to live inside their destroyers as the close heavy accurate German shelling intensified upon them. LTC MARTZ wrote the below suggested unit citation for B Company for their Extraordinary Heroism during the siege and defense of St. Lo:
"For contributing to the defense of St-Lo from July 20 to July 26, 1944 with anti-tank and personnel security (Security Platoon assigned to Company), covering a portion of the city that infantry was unable to secure, and from a position in front of friendly infantry, and not more than 500 yards distant from enemy installations. Under conditions mortar and artillery fire the company manned these hazardous positions constantly, showing extraordinary Heroism, and exhibiting such Gallantry and Esprit de corps as to set them apart and above other units participating in the same operation".

The recommending officer daily visited this position and certifies to the authenticity of the continuous enemy fire, and to the Morale, Gallantry, and Esprit de Corps of the entire unit. - Martz
After all this Heroism "B" Company was never awarded the above citation, nor did the men receive any recognition from any other higher echelons.

I believe that the above citation was never followed through because Lt. Colonel William V. Martz was captured by German Forces at the Battle of Mortain, France on 8 August 1944. I am certain that had he remained with his unit he would have followed through on behalf of Bravo Companies Citation.
The Bronze Star citation with photos below was awarded to Mack H. Leggett the youngest recovery team member from Recon Company. Mack was 18 years old at the time of the recovery.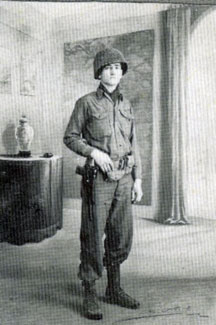 Mack H. Leggett, 18 years old - Recon Company, 2nd Recon Platoon, Nancy, France 1944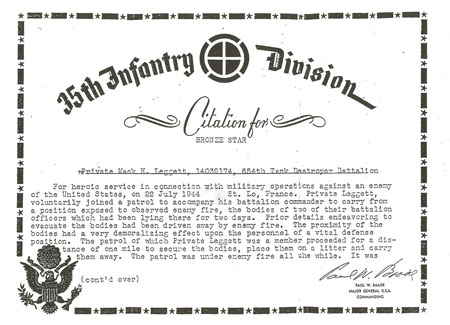 The two fallen friend's remains are interned in Normandy American Cemetery at Colleville-Sur-Mer, France. Below is their final resting place.
Thanks to 654th TD Battalion Researcher/Author Ann Gaule, niece of 1st. Lt. Maurice P. Alger, Jr., for this information and the photographs.