134th Infantry Regiment

"All Hell Can't Stop Us"
Colonel John Campbell, Jr.
Companies K, L and Anti-Tank Company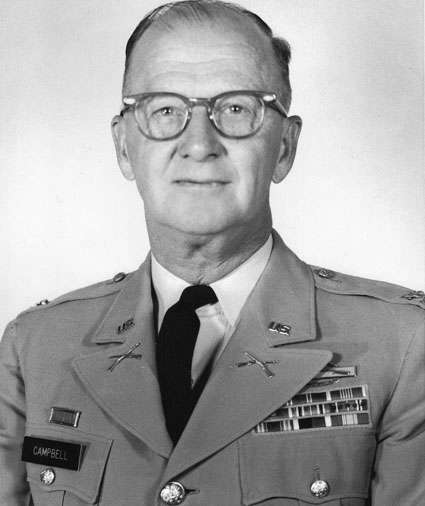 Colonel John Campbell, Jr., 1968
Silver Star Medal Citation
First Lieutenant John Campbell Jr, O1325554, Infantry, United States Army, for gallantry in action in the Vire River sector, France, 27 July 1944. When Company L, 134th Infantry, was unable to continue its advance because of fire from an enemy machine gun, Lieutenant Campbell, a platoon leader, sent a squad to the left flank of the enemy emplacement in an attempt to destroy it. Since the squad was unable to bring flanking fire upon the enemy emplacement, Lieutenant Campbell, armed only with hand grenades, crawled to the enemy's right flank where he threw two grenades which destroyed the gun, killed its crew and enabled Company L to continue its advance. The gallantry in action on the part of Lieutenant Campbell, his courage and zeal for the accomplishment of his unit's mission, reflect the highest credit upon his character as an officer and upon the military service. Entered military service from Illinois.

General Orders 38, Headquarters 35th Infantry Division, 29 September 1944

Purple Heart Medal with Oak Leaf Cluster
Twice Wounded in Action - July 21, 1944 and January 12, 1945

2nd Lt. John Campbell, Jr., taken in 1943 or 1944
John "Jack" Campbell, Jr.
John Campbell, Jr., was born on September 19, 1913, in Chicago, Illinois, the only son of John Campbell and Rachel Borthwick, recent immigrants from Glasgow, Scotland. His father was a house painter and decorator. Jack Campbell graduated from Lane Tech High in Chicago in 1932. During the years of the Great Depression, he worked as a soda jerk in a pharmacy, a guide at the 1933 Chicago World's Fair, a singer on the radio, and as a street car conductor and dispatcher. On April 22, 1932, he enlisted in the Illinois National Guard and served almost four years in the 342nd Infantry. He was discharged at the end of his term of service as a Private. Jack Campbell married Mary Elizabeth Lush on January 31, 1942. He enlisted in the Army for the second time on November 16, 1943, and attended Infantry Officer Candidate School at Fort Benning, Georgia.
He served as an Infantry officer in the European Theatre of Operations as a platoon leader and company commander in the 134th Infantry Regiment of the 35th Infantry Division. As a First Lieutenant, he took command of Company K on August 18, 1944. He was given a battlefield promotion to Captain on September 24, 1944. He led soldiers of his units through the hedgerows of Normandy; in the Battles for Saint Lo, Nancy, and Orleans; and the relief of Bastogne during the Battle of the Bulge. He was wounded twice, once at Saint Lo and again at Lutrebois. At the time of his second wound, he was one of the last of his regiment's original company grade officers from the time of unit's entry into France in July 1944, who had not been killed in action or evacuated for wounds. He was hospitalized after his second wound, and returned to the 134th Infantry on April 1, 1945. He was assigned to the Antitank Company. He participated in the Normandy, Northern France, Ardennes, Rhineland and Central Europe campaigns, and returned to the United States on September 10, 1945.
After the war, he chose to stay on active duty. He served a short time as the Assistant professor of Military Science at his old high school, Lane Tech. Later, he was commissioned in the Regular Army, and attended the Infantry Officer Advanced Course in 1949, and the Command and General Staff Course in 1952. After World War II, his assignments included service in Munich, Germany (1949-1951); Riyadh, Saudi Arabia (1953-1954); and Tehran, Iran (1958-1960). He also served as the Chief of Staff of the XI U.S. Corps, as a staff officer in the Office of the Deputy Chief of Staff for Personnel at the Pentagon, and as the Deputy Post Commander at Fort McClellan, Alabama.
He was awarded the Silver Star Medal, our Nation's third highest medal for valor, for actions as a platoon leader in Company L, 134th Infantry Regiment, in the Vire River Sector following the Battle of St. Lo. His other military decorations include the Purple Heart with OLC, the Combat Infantryman Badge, the Bronze Star Medal, the European-African-Middle Eastern Campaign Medal, the American Campaign Medal with OLC, the Army of Occupation (Germany) Medal, the World War II Victory Medal, the National Defense Service Medal with OLC, the French Croix de Guerre, a Presidential Unit Citation, and the Legion of Merit.
Jack Campbell was a kind, caring, and very proud man. He was man of character and integrity. He was proud of his Scottish heritage, proud of his family, proud of his service to his Country, and, above all, proud to be an American. He was a life-long member of the 35th Infantry Division Association. He was immensely proud of the 35th Infantry Division and the 134th Infantry Regiment. He rarely spoke of his experiences in World War II. He kept only three items related to World War II: his copy of the book, All Hell Can't Stop Us, a captured German officer's sword, and a letter from his First Sergeant in Company K. The letter relates Christmas Eve of 1944 during the Battle of the Bulge, when Captain Campbell sang Silent Night to the soldiers of his company.
Jack Campbell retired at the rank of Colonel at Fort McClellan, and lived in Weaver, Alabama until his death on December 29, 1995. In his retirement he played golf, built furniture, became an authority on organic farming, fed dozens of families from his garden, hosted innumerable parties, played the piano or organ and sang with a beautiful tenor voice, helped anyone in need, and loved and took care of his family. He raised his Country's flag every morning, and lowered it every evening. In 1990, the Army notified him that he was being recalled to duty for the Gulf War - he was 77 years old at the time. Of course, the notification was an error, but he loved to tell the story.
Jack and Mary Campbell had two sons, both who served as career Army officers, one retiring as a Colonel; the other as a Lieutenant General.
Jack Campbell is buried at Arlington National Cemetery.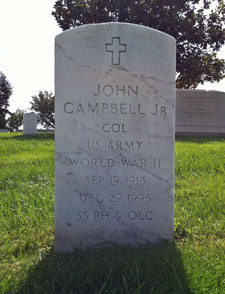 Thanks to John G. Campbell for these pictures and the biography of his father.