134th Infantry Regiment

"All Hell Can't Stop Us"
S/Sgt Joe D. Dozier
Company F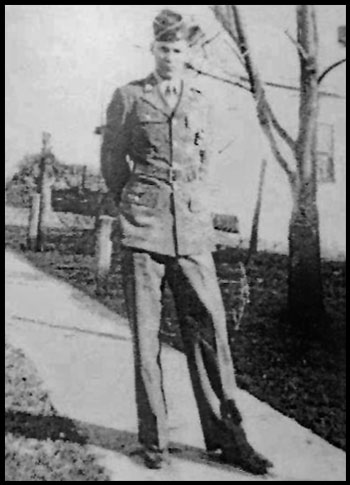 Joe Dudley Dozier
Parents: Weed & Nannie (Shepherd) Dozier
Army: S/Sgt 25 Aug 1942 - 10 Nov 1945
POW - Purple Heart
Joe D. Dozier landed on Omaha Beach with Company F, 2nd Battalion, 134th Infantry Regiment on July 5, 1944. He went missing in action on September 11, 1944, during the battle for the bridge at Flavigny, France. The battle for the Flavigny Bridge over the Moselle River was one of the bloodiest battles of the Lorraine Campaign. The Second Battalion of the 134th Infantry Regiment was decimated when it attempted to cross the river, preparatory to the drive on Nancy, France. Some 500 - 600 soldiers were killed, wounded, captured or lost. S/Sgt Dozier was taken prisoner and held at Stalag IIIC at Alt-Drewitz, East Prussia (now Poland). He passed away in 1985 and is buried at Sunset Memorial Gardens in West Irvine, KY.
Thanks to Jerry Cecil, Colonel (Ret) U.S.A. for this picture