134th Infantry Regiment

"All Hell Can't Stop Us"
Pfc. Frederick T. Esenbock
Company G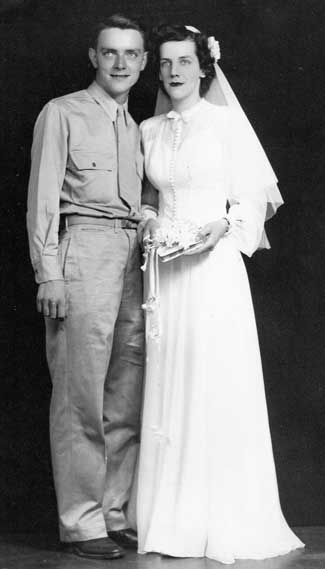 Frederick and Audrey Mae (Turner) Esenbock - 1944
Pfc. Frederick T. Esenbock joined Company G as a rifleman on January 27, 1945 while the Company was at Hupperdange, Luxembourg. He was wounded in action on March 27, 1945 near Dinslaken, Germany. After recuperating from his wounds he returned to duty May 6, 1945 and served with Company G through the end of the war, returning to the U.S. with the Regiment in September of 1945.
He married Audrey Mae Turner Esenbock in 1944. After the war they lived their entire lives in Cincinnati, Ohio. They had two children: son Mike Esenbock and daughter Barbara who has three sons. Audrey Esenbock passed away in 1965 and Pfc. Frederick T. Esenbock passed away in 1974. They are buried at St. Joseph New Cemetery in Cincinnati, Ohio.
Thanks to Pfc. Esenbock's son Mike for this picture and information about his father.