134th Infantry Regiment

"All Hell Can't Stop Us"
World War II 50th Anniversary Commemorative Celebration
Omaha, Nebraska - September 2, 1995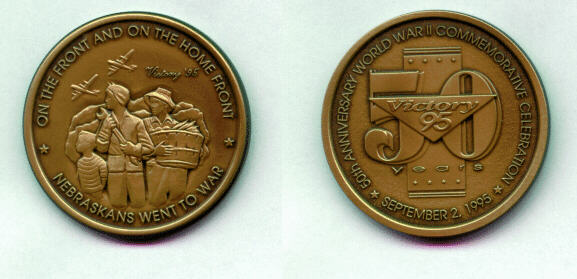 Victory Token
The following inscription is taken from the card that accompanied the Victory Token pictured above:
The Victory '95 celebration is a time for America's Heartland Community to pause and pay tribute to the men and women who served so valiantly during World War II on the battle front and on the home front.
May we never forget what was sacrificed and what was won.
Mr. Bill Fead of Omaha, Nebraska kindly donated the token shown above to the 134th Infantry Regiment website. Mr. Fead is an Army veteran who served during the Korean War. Although he didn't serve with the 134th Infantry, he was an honorary member of the 134th and has fond childhood memories of the Regiment. His mother served sandwiches and coffee to the boys at the U.S.O. Club and the Union Depot Railroad Station in Omaha. On occasion she invited some of the men home for a home cooked meal. Mr. Fead can still remember taking food to the train station so that his mother and other members of the USO could feed the Regiment.
Mr. Fead collects Invasion Money and Military Scrip from WWII and other coflicts. Anyone wishing to contact him can send email to him at: wrfead@cox.net