134th Infantry Regiment

"All Hell Can't Stop Us"
Pvt. John W. Fine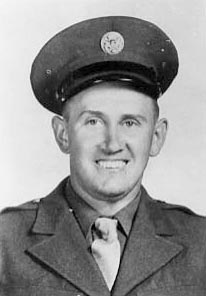 Company K, 134th Infantry Regiment
John Wesley Fine was born September 20, 1912. His home town was Rogers, Arkansas and he was reared in the Willow Springs community. He was a farmer before entering the service. He joined the Army in April 1944 and served as a Rifleman with Company K. He was Killed in Action near Lutrebois, Belgium on January 6, 1945. The letter below is his last letter home. Pvt John W Fine is buried at Fayetteville National Cemetery, Fayetteville, Arkansas.
Thanks to Mr. Neil Kingsley for this photo and copy of the letter. Pvt. John Fine is his wife's grandfather. The family would like to hear from anyone who recognizes him from his days in the service. Please contact Neil Kingsley at neilrkingsley@gmail.com if you have any information.