134th Infantry Regiment

"All Hell Can't Stop Us"
S/Sgt. John E. (Jack) Manthey, Jr.
Company L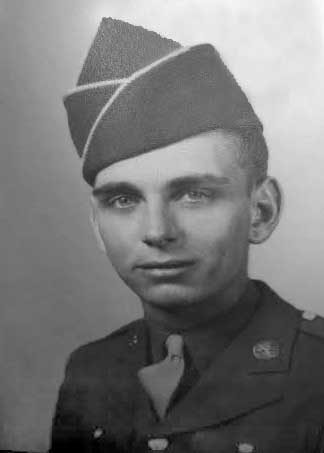 "John E. Manthey Jr was born April 11, 1923 in Cincinnati Ohio. His father John was a real estate broker and his mother Thelma was a homemaker. He had an older sister Betty and a younger sister Joy. He married his first wife Margaret on June 3, 1944. Soon after they married, he left to go to Ft. Benning in Georgia. He was in charge of training troops to go overseas. Due to his proficiency, he was asked to continue training others as opposed to being deployed himself. Finally, in the fall of 1944, he convinced his commanders to release him into service overseas.
His handwritten journal reports his travels throughout his ordeal.: Third Army: 134th infantry Companies O and L.
He left for Ft. Meade Maryland on Nov. 4th, 1944. Left for Camp Shanks New York for embarkation orders on November 20th. On the 24th of November he boarded the William H. Barry oceanliner for Europe. He landed in Marseille France on December 8th. 11th December boarded the train from the south of France on the 40 & 8. These were the boxcars used to transport troops to the front lines. Dec 14th Toul, France. Dec 22 Saint-Jean-Rohrbach, France. Dec 24 Metz, France where he joined Company L. Dec 25, 1944 in Attert Belgium he was promoted to Staff Sergeant due to the promotions, injuries and deaths of other members of his unit . Dec 29 Loutrebois (Lubenbois) he was captured during the Battle of the Bulge.
He recalled the story of marching in the snow to his next destination. He was controlled by the rifle handles and yelling of German soldiers. They took his overcoat from him so that he would not attempt to flee. They marched to Prum Germany. They were held there from Jan 3 through 9 of 1945. They marched to Geraldstein Germany on the 9th of January where they were held until the 17th. They then marched from the 17th through the 22nd of January to Hammelburg where he was held in the prison camp OFLAG 13C.

He was held prisoner for the next 56 days until my uncle's unit, the 370th infantry division liberated him. He had sent a handwritten 3"x 2.5" note through the message center. This small note was amazingly delivered successfully to T/4 L.J. Fahrney - his sister Betty's husband. "Bud's" unit deployed their location to free the prison camp. Jack was liberated by his brother-in-law on March 27th; only to be recaptured by the Germans the following day near Garsbach, Germany. Marched to Nurnburg from the 29th to April 1st and was held at OFLAG 10B.
His journals from his time there reflect experiences such as; no food for several days, marched at night in the driving rain, heard and saw the bombing of towns, slept in the woods, no chicken (he apparently made several attempts to catch and eat a chicken), marched several kilometers per day - as many as 36k in one day.
He was relocated to STALAG 7A in Mooseburg Germany on April 20th, 1945. Slept in tents there. Received one Red Cross parcel per week containing meals for 6 men per parcel. The news was improving...the Yanks were closing in, only 22 miles from them. For the next week the captives mostly ate and slept.
Liberation Day - April 29th, 1945. GI's liberated STALAG 7 and took over the camp at 1250 hours. The soldiers stayed at this location for several days awaiting transportation due to rainy weather. May 7th, 1945 - moved out of camp and stayed in a German house where he ate and slept on a feathered bed! May 8th -Flew into Paris on a C-47, saw Notre Dame Cathedral. Saw a Judy Garland picture show: 'Meet me in St. Louis'.
Stayed at Camp Lucky Strike from May 9th - May 21st, 1945. Processed departure paperwork and mostly slept and ate. Jack was able to visit with his Aunt Jessie who had been in Paris during the entire occupation. They visited and drank scotch together celebrating their liberation. Jack boarded the USS Monticello Navy transport ship. He arrived in South Hampton New York on May 23rd, 1945.
John Ernst "Jack" Manthey was honorably discharged from the US Army on October 16th, 1945. He was awarded a good-conduct medal, two Bronze Stars and one Purple Heart.
Jack was the proud father of one daughter Diane and two sons, Charles and James from his marriage to Margaret. He later met and married his second wife Naola, to whom he was married for thirty years at the time of his death in December of 1995. Jack and Naola were proud parents of their daughter Amy born in 1965. Jack also proudly claimed Naola's four children from her first marriage as his own: Valorie, Jana, Ron and Chris.
Jack suffered several physical and mental ailments due to his time spent imprisoned. He often awoke in the middle of the night convinced that German soldiers were threatening him. Late in his life while housed at the Veteran's facility near Dayton, Ohio, he shared the stories of his time in France and Germany with his daughter Amy. The stories were evidence of his vivid memories of his ordeal. Jack was a proud American who would have done it all again to serve his beloved country."
Amy Manthey Kraft - June 13, 2016
Pages from S/Sgt John E. Manthey Jr's Journal
Click on small image below to open a high resolution version

Thanks to Amy Manthey Kraft for the biography, journal and photo of her father.