134th Infantry Regiment

"All Hell Can't Stop Us"
Medical Detachment - 134th Infantry Regiment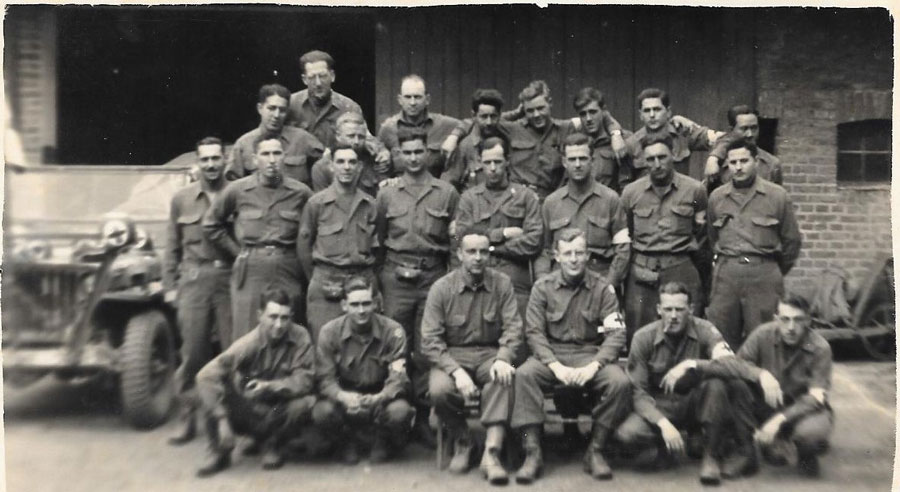 Hanover, Germany 1945
To view or download a larger version of this picture CLICK HERE
Front Row: William N.Dame, James M. Sasser, Capt. Sylvan M. Stillman, Lt. George W. Schade, Sgt. James E. Baker, Jacob O. Doerner

Middle Row: Murray Goldstein, Jesse J. Manhart, Adam Leier, Jimmie W. Caplinger, Lonnie Colbert, Hubert P. Bradford, Henry A. Geasland, Louis L. Hollingshead

Back Row: Michael Campobasso, Leo N. Fierst, Charles H. Lenz, William H. Parker, Jr., Bryl B. Haynes, Edward C. Conrey, (Russian), Mamerto O. Espada
PLEASE NOTE: This photo, from the collection of Pfc. Jimmie W. Caplinger, has the names of the men written on the back. Although 8 names are listed for the back row there are 9 men pictured. If anyone can identify these soliders please contact webmaster.
Pfc. Jimmie W. Caplinger originally served as a rifleman in Company B, 134th Infantry Regiment. When the Company medic was killed in action during the Blies River crossing and battle for Habkirchen, Germany in December 1944, Pfc. Caplinger stepped into that role. He was awarded a Bronze Star Medal for heroic action during that battle. Although never offically trained as a medic, he had at one time been a hospital orderly and was officially transferred to the Medical Detachment in January 1945.

Thanks to Linda Ommart, the daughter of Pfc. Jimmie W. Caplinger, for this photograph and information about her father. She would like to hear from anyone who remembers serving with him. Please contact her at lindaommart@gmail.com