134th Infantry Regiment

"All Hell Can't Stop Us"
Photos from the 10th Annual 35th Division Veterans Luncheon - Southgate, Michigan
Each year Mrs. Nancy Skrocki has organized a Luncheon for 35th Division veterans in Southgate, Michigan. This year the 10th Annual Luncheon was held on October 13, 2011 at the The Rhapsody Banquet Hall. Below are some pictures from this year's luncheon.
Hulon Watson (Company G, 134th Inf Reg) and Nancy Skrocki
Barbara and Arne Mettinen (Company F, 134th Inf Reg)
Ray Korejsza and Tracey Kemp
Mr. Ray Korejza is Nancy Skrocki's brother. He was 4 years old when their older brother S/Sgt Leo Korejsza was Killed in Action on November 13, 1944 while serving with Company A, 134th Infantry Regiment. Tracey Kemp is Nancy's daughter who helped at the luncheon.
Nancy Skrocki with Terry Murtaugh (Company B, 134th Inf) and his daughter
Art and Beverly Goodhue (Company H, 134th Inf Reg) with daughter Mary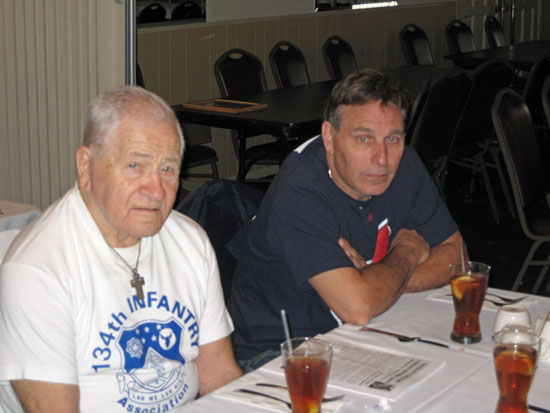 Dan Vlad (Company F, 134th Inf Reg) with son Jeff
Photos from prior year's luncheons

Photo from 1st Annual Reunion Luncheon in Michigan - May 16, 2002
BACK ROW: Ralph Cortese, ____, Stan Mendygral, Bill Nemeth, Maxie Messer, Hulon Watson, Ron Boerst, Chester Goralewski, Hank Ulanski, Gene Bazzo, Soter "Art" Liberty, Frank Gerben, Frank Kuwik, Tony Kowalewski
MIDDLE ROW: Jim Alessandro, Don Maddock, Wally Bach, Arne Mettinen, Chester Miles, Henry Mondro, M. Roy Quinton, Art Floyd, Art Goodhue, John Mohritz, Bill Craft
SEATED: Milford "Blackie" Tucker, Tom Watson, Sellwyn Biggs, ____, Russ Gorham, Andy Soyko, Andy Bruneel, Al Ray Krider, Victor Dutchik
On May 16, 2002, a Luncheon was held for 35th Infantry Division Vets at Hungarian Rhapsody Restaurant, Northline Road in Southgate, Michigan. With family and friends, a total of 67 were present. Engraved coffee cups were handed out; thanks to the generosity of the Mayor of Allen Park, MI, Levon King. Ms. Suzanne Hall, Mayor of Southgate, welcomed the guests to her community. Donations from the Dearborn Army Recruiting Office were also handed out. Also handed out were letters of gratitude signed by the Hon. Rep. John Dingell.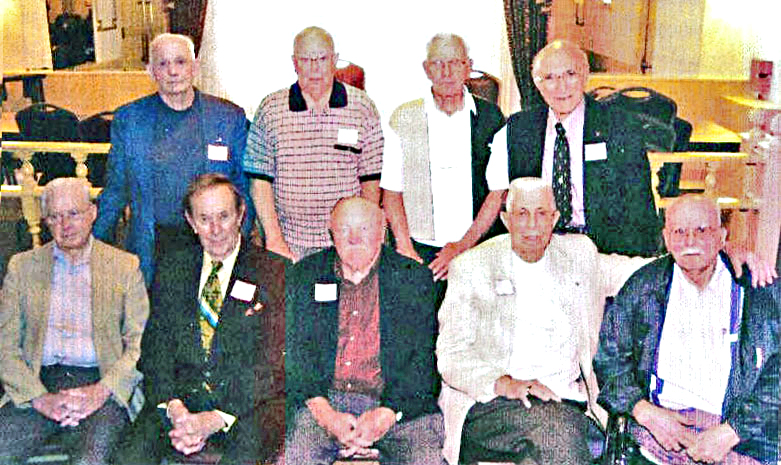 Photo from 2005 - 35th Division Veterans Luncheon - Southgate, Michigan
Standing left to right: Hulon Watson (134); Art Goodhue (134); Terry Murtaugh (134); Art Liberty (320). Seated left to right: Frank Kuwik (320); Chet Miles (320) Arne Mettinen (134); Blackie Tucker (137 deceased); John Bandrow (320)
Thanks to Ms. Nancy Skrocki for the photos and information.