134th Infantry Regiment Website

"All Hell Can't Stop Us"
Pfc. Richard Gray Morris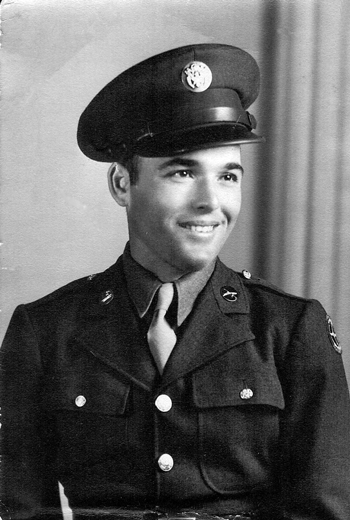 134th Infantry Reiment - Company C
Richard Gray Morris and Martha Ann Morris were born 18 August 1913, in Ernul, North Carolina to Stephen Edward Morris Jr. and Augusta Josephine Jones. They were number eight and nine born in this family of eight boys and three girls (nine of which lived to adulthood). The children, in order of birth, were: Albert Edward, Sallie Elizabeth, George Steve, Ralph Thomas, Nannie Gertrude, Mark David, Norpha Gilbert, Richard Gray, Martha Ann, Gilbert Matthew and Alfred Potts Morris, born between 1902 and 1917. Sallie died when she was 20 months old and Norpha Gilbert died at one month.
Richard lived with his family in Ernul and Cayton (Township 2), through 1930 (he's listed in the family on both the 1920 and 1930 US Federal census). I don't remember many stories told by our Grandma Martha about their childhood, other than the typical Christmas stories of some nuts, an orange and some type of candy in a stocking and an instance where her brothers broke her Christmas doll. She always called her mother "A Saint", but never really qualified that. And in a taped interview said her father wasn't a church going man, but in his later years "accepted the Lord as his Savior." The 20's and 30's were difficult years, especially on farms. Grandma mentioned more than once that they didn't have much money, and that they all worked in the fields.
In his World War II Army Enlistment records, it states that Richard had received a Grammar school education. Grandma told us that she attended Ernul school through the 8th grade, and it's likely Uncle Richard did as well.
November 22, 1933, when he was 20 years old, he joined the Civilian Conservation Corps, and worked in Swan Quarter, North Carolina for the next year, honorably discharged December 31, 1934. On April 7, 1937, he joined the CCC again, this time working in Buxton, North Carolina for 3 months, in Washington, North Carolina for 3 months, then was honorably discharged, with a notice that he could not rejoin for at least six months.
In 1940, Richard and Mark were living with their parents on a farm. Their father Stephen was working as a Laborer with the W.P.A., Mark was listed as a Tenant Farmer, and Richard was listed as a laborer on a farm.
Richard never married, but Grandma said that he'd had a girlfriend. There is a lone picture of Uncle Richard standing with an unknown woman the day that Uncle Alfred and Aunt Louise were married. I seem to remember Grandma saying that he wouldn't ask this woman to marry him, because he didn't want to leave her not knowing if he'd return. I don't know if that's an accurate memory, but it was the impression I got as a young girl listening to Grandma talk about him.
Grandma also said that all her brothers were musical, but Uncle Richard most of all. She said he played the guitar, and he "could make that guitar talk." My mother remembers her uncles and cousins, playing and singing after the big family dinners (she would have been too young to remember Uncle Richard).
Richard had his World War II draft card completed, and signed it, as did all the young men of his era. And then on January 22, 1943, he enlisted in the United States Army at Ft Bragg, North Carolina. Richard was a member of the 134th Infantry Regiment, 35th Infantry Division - B. He was initially at Camp Butner, North Carolina, and then Camps Rucker in Alabama and Forrest in Tennessee, before moving out with his division to New Jersey. In May 1944 he was listed in Company "C", First Platoon, Staged at Camp Kilmer, New Jersey.
On the Battle Casualty Report of July 24, 1944, Richard G Morris, PFC, Inf, Serial Number 34663511, was listed KIA (Killed in Action) on 16 July 1944 in France.
We have a letter, written by J. A. Ulio, Major General, to Richard's mother, confirming a telegram that informed them Richard had been reported Missing in Action in France since 16 July 1944. We don't know if there was a letter or telegram later confirming that he'd been killed in action, but assume there was, since there was a telegram sent in March 1948 asking them to return a disposition form (for the remains).
After World War II, Richard's cousin, Howard Morris was stationed in France. During that time, he made a visit to Normandy, specifically to visit the cemetery at La Cambe, and see Richards marker. He took photos and sent them, along with a letter to his sister, who then passed it on to her Aunt. In it he wrote, " I feel certain that if Aunt Augusta's decision to leave him where he is could but be known to him, it would be exactly what he would have had her decide on."
His listing in the World War II Young American Patriots North Carolina, published in 1948 by the National Publishing Company, lists Morris, Richard G., and prints,
Pfc., U.S. Army. Born Aug. 18, 1917. Entered service 1942, Ft. Bragg, Camp Butner, N.C.; Camps Rucker, Ala., Forrest, Tenn.; England; France. Killed in action in Normandy, July 16, 1944. Awarded PH, G. Cond. M. Attended Ernul H.S. Protestant. Son of Mr. and Mrs. S. E. Morris, Rt. 1, Ernul, N. C. [Note: Some of these dates are incorrect based on more accurate sources.]
Richard was making family visits before he left with the Army, and Uncle George's children said that when he was saying good bye to their father, he told him, "I don't think I'll be coming back." He was right.
Angela Barrow Deller, grandniece
22 October 2014
Pfc Richard G Morris was Killed in Action July 16, 1944 during the battle for St Lo, France. He is buried at Normandy American Cemetery in Colleville-sur-Mer, France.