134th Infantry Regiment

"All Hell Can't Stop Us"
134th Infantry Regiment Anti-Prohibition Petition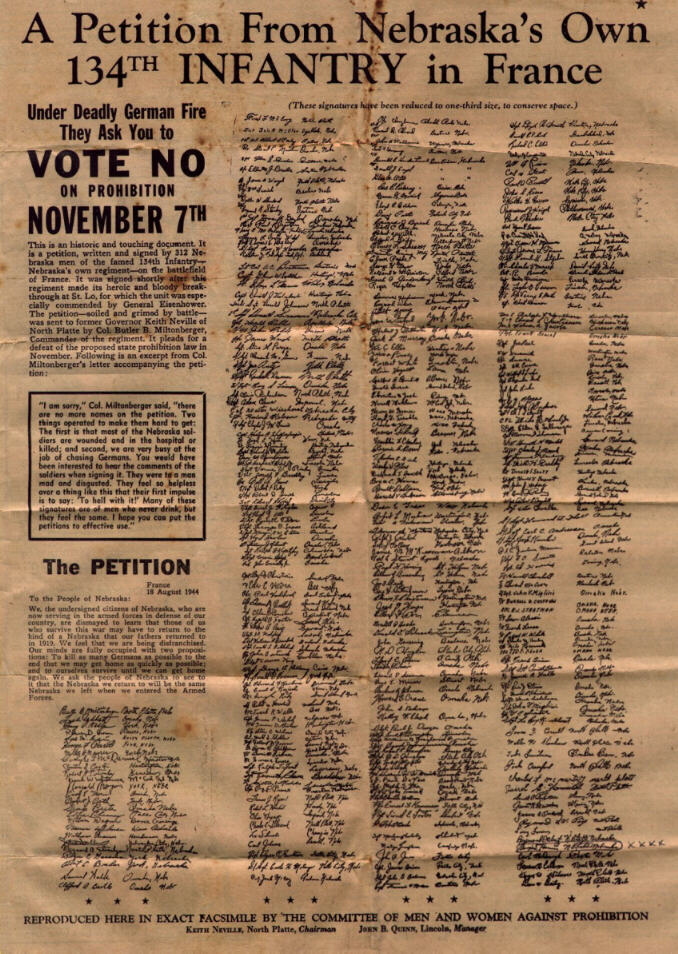 August 18, 1944
In 1944, the State of Nebraska was considering the enactment of a prohibition law. This anti-prohibition petition, sponsored by "The Committee of Men and Women against Prohibition"and signed by 312 members of the 134th Infantry Regiment was published in a Nebraska newspaper (probably in North Platte). The following is a transcript of the text:
A Petition from Nebraska's Own 134th INFANTRY in France
Under Deadly German Fire
They Ask You to VOTE NO ON PROHIBITION NOVEMBER 7th
This is an historic and touching document. It is a petition written and signed by 312 Nebraska men of the famed 134th Infantry - Nebraska's own regiment - on the battlefield of France. It was signed shortly after this regiment made its heroic and bloody breakthrough at St. Lo, for which the unit was especially commended by General Eisenhower. The petition - soiled and grimed by battle - was sent to former Governor Keith Neville of North Platte by Col. Butler B. Miltonberger, Commander of the regiment. It pleads for a defeat of the proposed state prohibition law in November. Following is an excerpt from Col. Miltonberger's letter accompanying the petition:
"I am sorry," Col. Miltonberger said, "there are no more names on the petition. Two things operated to make them hard to get: The first is that most of the Nebraska soldiers are wounded and in the hospital or killed; and second, we are very busy at the job of chasing Germans. You would have been interested to hear the comments of the soldiers when signing it. They were to a man mad and disgusted. They feel so helpless over a thing like this that their first impulse is to say: 'to hell with it!' Many of these signatures are of men who never drink, but they feel the same. I hope you can put the petitions to effective use."
THE PETITION
France - 18 August 1944
To the People of Nebraska:
We, the undersigned citizens of Nebraska, who are now serving in the armed forces of our country, are dismayed to learn that those of us who survive this war may have to return to the kind of a Nebraska that our fathers returned to in 1919. We feel that we are being disfranchised. Our minds are fully occupied with two propositions: To kill as many Germans as possible to the end that we may get home as quickly as possible; and to ourselves survive until we can get home again. We ask the people of Nebraska to see to it that the Nebraska we return to will be the same Nebraska we left when we entered the Armed Forces.
Thanks to Mr. Kevin Hansen for providing a copy of this petition. Mr. Hansen is the son of T/Sgt George L. Hansen who served with Company D of the 134th Infantry Regiment. For more information about T/Sgt Hansen please CLICK HERE.