134th Infantry Regiment

"All Hell Can't Stop Us"
Dedication of Santa Fe Stadium
Official Program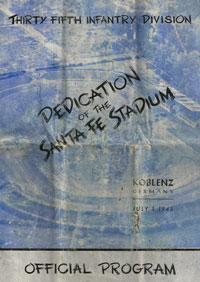 Koblenz, Germany - July 1, 1945
The Santa Fe Stadium in Koblenz, Germany was dedicated to the 35th Infantry Division on July 1, 1945. The stadium was originally built in 1920. Still in use and today known as Oberwerth Stadium, it has been substantially remodeled since 1945.
Dedication Ceremony Program
Entrance of Citation Winners - 1st Battalion 320th Infantry Regiment; 1st Battalion 134th Infantry Regiment; 2nd Platoon Company D 134th Infantry Regiment
Entrance of Commanding Generals
Introduction by Chief of Staff, Colonel Maddrey A. Solomon
Division Commander's Address, Brigadier General Theodore L. Futch
Presentation of Arms; National Anthem
Inspection of troops
Reading of citations; presentation of streamers and badges by Army commander
Troops pass in review
The dedication also featured a baseball game between the 35th Division Indians and the 106th Division Cubs.
The Official Dedication Program includes photographs of Commanding Officers; brief histories of the 35th and 106th Infantry Divisions; photographs of baseball players from the 35th Division Indians and the 106th Division Cubs teams; baseball game scorecard; dedication ceremony program; stadium history; description of the 35th Division sports program; 15th U.S. Army Baseball and Softball League Schedules for 1945; description of 35th Division Battle Honors for Mortain, Hill 122 (St. Lo), and the Blies River.
Download a copy of the Official Dedication Ceremony Program
See original video from the dedication ceremony