134th Infantry Regiment Website

"All Hell Can't Stop Us"
Pfc Nicholas Savino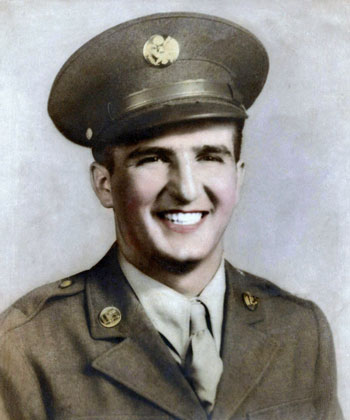 134th Infantry Regiment - Company B
Nicholas Savino of Sharon, MA was inducted into the Army at Boston on May 26, 1943. After some time spent in training, he was assigned as a Rifleman to the Third Platoon, Company B, 134th Infantry Regiment. In May 1944 he was stationed at Camp Kilmer, NJ. This was just prior to the Regiment's departure for England on May 11, 1944.
Company B departed Plymouth, England and landed at Omaha Beach on July 5, 1944. Pfc. Nicholas Savino was Killed in Action on July 17, 1944. At the time of his death, the 134th Infantry Regiment was attempting to capture Hill 122, a German stronghold at St Lo, France. He is buried at the Normandy American Cemetery at Colleville-sur-Mer, France.
Thanks to Glenn Parsons for the photograph. Pfc. Savino is his wife's uncle.