134th Infantry Regiment

"All Hell Can't Stop Us"
S/Sgt Charles Thomas Sewards
Company E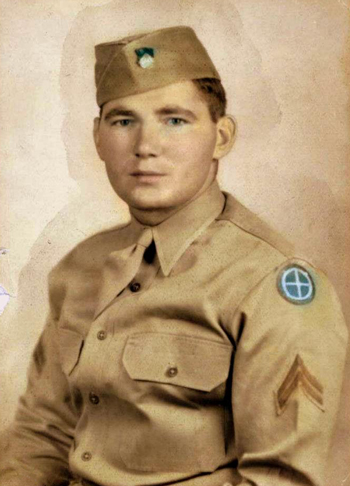 Charles Thomas Sewards was drafted on December 10, 1941 and entered service from Ft. Hayes, Ohio. He joined the 134th Infantry Regiment after basic training and landed with the Regiment in France in July 1944. He trained as an antitank gun crewman but served as a squad leader with Company E. He was wounded in action on July 17, 1944 during the battle for St. Lo France and returned to duty on July 20, 1944. He was injured in action on August 1, 1944 and returned to duty on October 6, 1944 after recuperating from his injuries. He departed the ETO on September 28, 1945 arrived in the U.S. on October 4, and was discharged from the Army on October 16, 1945.
He earned a Purple Heart Medal with Oak Leaf Cluster, Good Conduct Medal, European-African-Middle Eastern Campaign Medal with 3 campaign stars (Normandy, Northern France, Rhineland), and an M1 Rifle Expert Sharpshooters Badge. He was awarded a Certificate of Completion for a Combat Intelligence course, November 23, 1942, taught by 1st Lt. Guy M. Sanders and Captain Dale Godwin, Chief of the S-2 section and signed by Col. Miltonberger, 134th Infantry Regiment.
S/Sgt Charles T. Sewards passed away in March 2000.
Thanks to Thomas H. Cunningham, Jr. for these pictures and information. He is the great-grandson of S/Sgt Sewards.