Volume 7, April 2000 Play the music for this webpage!"
---
INSIDE THIS ISSUE
---
---
CURRENT VOLUNTEERS
---
Terry Meinke…..............…………..……..….Managing Editor Tim Coulthart...............................…….…..……....…....Editor Ian Coulthart.............….......................…...…....……....Editor
Back to Table of Contents
---
WANTED
---
The success of Clan Coulthart will depend upon your contributions. The editors need your support. Please submit family histories, biographies, announcements, questions and suggestions for improvement to the managing editor at the address listed below or send E-mail to meinket@yahoo.com. Be sure to include your name, address and phone number so we can contact you if there is a question. Also feel free to include photographs with your stories. All photos will be returned after they are scanned. The editors will select which items to include in each edition of Clan Coulthart.
Terry Meinke Managing Editor - Clan Coulthart 1004 Ridgewood Lane Palatine, IL 60067 U.S.A. (847) 359-4320
Back to Table of Contents
---
DEADLINE FOR NEXT ISSUE
---
The deadline for receiving information to be included in the July 2000 edition of Clan Coulthart is June 30, 2000.
---
WWW.COULTHART.COM
---
All editions of Clan Coulthart are available on the Internet at www.coulthart.com/newsletter.html
Back to Table of Contents
---
EDITORIAL
---
This edition of Clan Coulthart contains the final chapter, Part III, of the of the Coulthart Honor Role, recognizing all family members who served their countries. Due to the number of Veteran's stories submitted by family members, this issue will be limited to the stories of Veterans who served after World War II. For information about Veterans who served in or prior to WWII, please visit the Coulthart Family History Center on the Internet at www.coulthart.com. If your family's veterans are not listed, please forward their information to the editor of Clan Coulthart so they can be added to the Honor Role on the website.
For those of you who have not already done so, now is the time to renew your subscription to Clan Coulthart. All subscribers should check to see if their one-year subscription has expired. Your current subscription expiration date is listed in the upper right corner of your address label, to the right of your last name. Review your address label today and complete the form at the end of this newsletter to subscribe for another year. Please note that it is through subscriptions and sponsors that this newsletter is funded and it would not be available without your support.
Back to Table of Contents
---
COULTHART TO BE HONORED AT FT. SILL, OKLAHOMA
---
As reported in the October issue of Clan Coulthart, Gerald Francis "Frankie" Coulthart was killed in action during the Vietnam War in 1969. As a result of the diligent efforts of the editors of Clan Coulthart to tell his story, it was discovered that his name was missing from the official list of soldiers who made the supreme sacrifice in the unit from which he served.
The editors of Clan Coulthart are proud to announce that the Coulthart name has now been added to the official Roll of Honor of the 30th Field Artillery. An additional act of memorializing Frankie's bravery and sacrifice will take place during an upcoming reunion of the 30th in Fort Sill, Oklahoma. Frankie's name will be inscribed on a beautiful commemorative scroll, along with the names of 36 others from the Regiment who were killed in action during the Vietnam War. The scroll along with other exhibits will be displayed in the 30th Field Artillery Regimental Room in Snow Hall. A brief ceremony of commemoration will take place on June 16, 2000. Anyone interested in attending the ceremony should contact Terry Meinke at (847) 359-4320.
Back to Table of Contents
---
KOREAN WAR: 1951-1953
---
The Korean War was a military struggle fought on the Korean Peninsula from June 1950 to July 1953. Begun as a war between South Korean and North Korea after the North's invasion of the South, the conflict swiftly developed into a limited international war involving the United States and 19 other nations. From a general viewpoint, the Korean War was one of the by-products of the cold war, the global political and diplomatic struggle between the Communist and Non-Communist systems following World War II. The motives behind North Korea's decision to attack South Korea, however, had as much to do with internal Korean politics north and south of the 38th parallel as with the cold war. Contrary to the prevailing view at the time, North Korea apparently attacked South Korea without the knowledge of either the Soviet Union or the People's Republic of China. The Soviet Union which expected a war at a later time, was boycotting the United Nations (UN) when the attack occurred. The Communist government of China, meanwhile, was hoping to invade the island of Taiwan without having to deal with a military response from the Unites States.
After the North Korean army crossed the 38th parallel and invaded South Korea, the UN passed a U.S. sponsored resolution calling for military sanctions against North Korea. Combat forces from the U.S., Australia, Canada, Great Britain, New Zealand and 12 other countries were placed under a unified UN command headed by the U.S. and were deployed to Korea. This was the first time in which the UN used military measures to repel an aggressor. The Chinese got involved after the UN forces crossed into North Korea. In July 1953, a truce agreement was signed and the Korean War was terminated after more than three years of conflict.
| | | | |
| --- | --- | --- | --- |
| Country | Mobilized | Fatalities | Wounded |
| U.S. | 1,587,040 | 33,629 | 103,284 |
| other UN nations | 35,000 peak) | 3,094 | 16,532 |
The above summary is from Microsoft's Encarta Encyclopedia.
What follows are the stories of several descendants who served during this conflict.
Back to Table of Contents
---
Glenn Walter Coulthart (1930-present) Corporal, U.S. Army
Glenn was born in 1930 in Grafton, North Dakota. He was the son of Elmer Coulthart and Ida Johnson. Glenn enlisted in the army in 1951 at age 21 and served in Korea until 1953 when he was discharged.
He married Hazel Naug. Glenn and Hazel had two children: Wayne (1954) and Richard (1959). Glenn is the great-grandson of Walter Coulthart (1820-1892) of Grafton, North Dakota.
Back to Table of Contents
---
Holger Johnson see his story in the World War II edition
Back to Table of Contents
---
VIETNAM WAR: 1959-1975
---
The Vietnam War was a struggle fought from 1959 to 1975. It began as a determined attempt by Communist guerrillas (the so-called Vietcong) in the South, backed by Communist North Vietnam, to overthrow the government of South Vietnam. The struggle widened into a war between South Vietnam and North Vietnam and ultimately into a limited international conflict. The United States and some 40 other countries supported South Vietnam by supplying troops and munitions, and the USSR and the People's Republic of China furnished munitions to North Vietnam and the Vietcong. On both sides, however, the burden of the war fell mainly on the civilians.
In the United States, as military involvement increased, the war became increasingly controversial. The Vietnam War was the first in which live footage, showing the horrors of war, was broadcast on national television, bringing the war to the masses. A peace movement developed and gathered momentum, organizing marches and moratoriums against the war. In addition, a major reinterpretation of U.S. involvement in the war was spurred by the controversial publication in 1971 of the so-called Pentagon Papers. This collection of classified U.S. government documents cast a new, and to many, a dismaying light on the U.S. handling of the war and of the peace negotiations through the 1960's.
On January 27, 1973, in Paris, delegations signed an agreement ending the war and restoring peace in Vietnam. By the end of March 1973, all U.S. fighting forces had been withdrawn. Although President Nixon had apparently assured the South Vietnamese government that U.S. forces would step in to support them in the event of a major treaty violation, further military assistance to South Vietnam became politically impossible. One of the reasons for this was the concurrent outbreak of the Watergate scandal. Fighting between Vietnamese antagonists renewed and on April 30, 1975, the capital of Saigon was captured and South Vietnam surrendered unconditionally to the communist North.
One out of every 10 Americans who served in Vietnam was a casualty. Unlike their portrayal by the media and in the movies, the majority of veterans of the Vietnam conflict were much like their counterparts from previous wars. They were the unfortunate victims of an unpopular war. Vietnam was the most prolonged conflict ever fought by America GI's.
| | | | |
| --- | --- | --- | --- |
| Country | Mobilized | Fatalities | Wounded |
| U.S. | 2,590,000 | 58,169 | 304,000 |
Of those wounded, 75,000 were disabled. What follows are the stories of several descendants who served during this conflict.
Most of the above summary is from Microsoft's Encarta Encyclopedia.
Back to Table of Contents
---
Holger Johnson served in WWII, Korean and Vietnam
Back to Table of Contents
---
Larry Wayne Coulthart (1948-1998) Spec 5, U.S. Army Support Command-516th Personnel Service Company
Larry was born in Grafton, North Dakota in 1948. He was the son of William Coulthart and Mardith Nelson. In 1962, when Larry was 13 years old, his father passed away. Larry continued to work the family farm with his mother. He graduated from Grafton High School in 1966. After graduation, he continued farming until he turned 21. He was inducted in the Army in February 1970. During the period from October 1970 to October 1971 he was stationed with the U.S. Support Command in DaNang, Vietnam. He served in the DaNang area of operations under continual hostile action and was awarded the Letter of Commendation, the Good Conduct Medal, the Army Commendation Medal and the Bronze Star for meritorious achievement in ground operations against a hostile force. He received an honorable discharge in 1972.
After his discharge Larry returned to Grafton and began a successful farming career on the family farm raising small grains and sugar beets. In 1974 he married Frances Boulduc and the couple had two children: Tina (1972) and Rachel (1980). Larry farmed until he unexpectedly passed away of a heart attack in 1998, at the age of 49. Larry was the great grandson of Walter Coulthart (1820-1892) of Grafton, North Dakota.
Back to Table of Contents
---
Raymond R. Coulthart (1946-1973) U.S. Army
Raymond was born in 1946 near Hamilton, North Dakota. He was the son of Raymond Coulthart and Louise Lambrecht. During the Vietnam Era, Raymond served in the army and was stationed in Germany. His younger brother Gerald was killed in action in Vietnam.
After his discharge, Raymond returned to the Hamilton area and died in a farm accident in 1973. He was the great grandson of Walter Coulthart (1820-1892) of Grafton, North Dakota.
Back to Table of Contents
---
Robert E. Coulthart (1948-1998) U.S. Army
Robert E. Coulthart was born in June 1948. He was the son of Robert Coulthart and Gertrude Pohl. Robert served in Vietnam and passed away in March 1998 at age 49 in Arizona. Robert was the great-great-great grandson of William Coulthart (1800-1880) of Cannamore, Ontario.
Back to Table of Contents
---
John Charles Meinke (1933-present) Master Sergeant, U.S. Army
John was born in 1930 in Park Rapids, Minnesota. He is the son of Charles Meinke and Pearl Glascow. John enlisted in the U.S. Army shortly after graduation from high school in 1950. After basic training he was assigned to Ft. Hood, Texas where he married his high school sweetheart Patricia Hughes. John made the service his career and was assigned to the following duty stations during his twenty years in the service: Ft. Hood, Texas; Augsburg, Germany; Colorado Springs, Colorado; Ulm, Germany; Manhattan, Kansas; Olivia, Minnesota; Ft. Sill, Oklahoma; Karlsruhe, Germany and Buddingen, Germany. His area of expertise was field artillery.
During his career in the military, John completed two tours of duty in Vietnam. In 1963-1964 he spent a year in Vietnam as a military advisor. He was stationed with the 36th Vietnamese Artillery in Vinh Long and Can Tho, located about 50-75 miles southwest of Saigon. In mid 1964, John returned to the states and was assigned to Ft. Sill, Oklahoma, the headquarters for the United States Army Artillery. From 1964-1967 his primary responsibility was to provide advanced artillery training for soldiers scheduled to go to Vietnam.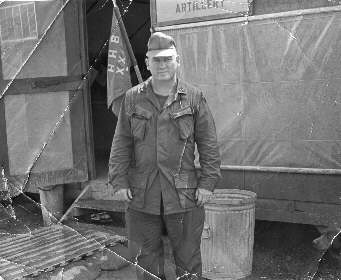 John's second tour of duty in Vietnam began in January 1969 during the height of the war. He was assigned to the XXIV Corp HQ (headquarters) at Phu Bai which was located about 60 miles south of the DMZ, 10 miles south of Hue and 50 miles north of Da Nang. John served as the Operations Sergeant, E8, for the XXIV Corp Artillery. He coordinated the combat units so that the infantry had the proper artillery support for their missions. John was cited with the Bronze Star for bravery in action. The citation reads, "By direction of the President, the Bronze Star Metal is presented to Master Sergeant John C. Meinke, United States Army, who distinguished himself by outstanding meritorious service in connection with the military operations against a hostile force in the Republic of Vietnam. During the period of January 1969 to January 1970, he consistently manifested exemplary professionalism and initiative in obtaining outstanding results. His rapid assessment and solution of numerous problems inherent in a combat environment greatly enhanced the Allied effectiveness against a determined enemy. Despite many adversities, he invariably performed his duties in a resolute and efficient manner, energetically applying his sound judgement and extensive knowledge. He has therefore contributed to the successful accomplishment of the United States mission in Vietnam. His loyalty, diligence and devotion to duty were in keeping with the highest traditions of the military service and reflect great credit upon himself and the United States Army." The photograph on this page is of John in Phu Bai, Vietnam in 1969.
John retired from the service in 1971 and currently lives in Olivia, Minnesota. John and Pat have three children: Chuck (1952), Teresa (1954) and Drake (1963). Pat is a descendant of William Coulthart (1833-1916) of Waseca, Minnesota and William Coulthart (1800-1880) of Cannamore, Ontario.
Back to Table of Contents
---
COLD WAR TO PRESENT: 1946-2000
---
The Cold War was a post-1945 struggle between the United States and its allies and the group of nations led by the Soviet Union. Direct military conflict did not occur between the two superpowers, but intense economic and diplomatic struggles erupted. Different interests led to mutual suspicion and hostility in an escalating ideological rivalry
After a century of friendship, Americans and Russians quarreled over Asian questions in the 1890's and became enemies in 1917 when the Communists seized power, established the Soviet Union, and declared ideological war on the capitalist nations of the West. The United States intervened in the Soviet Union, sending some 10,000 troops between 1918 and 1920, and then refused to recognize the new state until 1933. The two countries fought against Germany during World War II, but this alliance began to dissolve in 1944-1945 when the Russians leader, Stalin, seeking Soviet security, used the Red Army to control much of Eastern Europe. U.S. President Truman opposed Stalin's policy and moved to unite Europe under American leadership. Mistrust grew as both sides broke wartime agreements. Stalin failed to honor pledges to hold free elections in Eastern Europe. Truman refused to honor promises to send reparations from the defeated Germany to help rebuild the war-devastated Soviet Union. In 1947 a journalist popularized the term cold war in a book by the same name. Several years later, in Congress there was a series of highly publicized inquires into pro-Communist activity lead by Senator McCarthy. The cold war widened in the early 1960's with the building of the Berlin Wall and the Cuban Missile Crisis. By the 1970's the superpowers were weakened by the costly arms race which resulted in internal economic difficulties for both nations. The postwar economic superiority of the United States was also challenged by Japan and West Germany.
In 1985 Gorbachev, representing a new generation of Soviet leaders, came to power in the USSR. He and President Reagan agreed to cut back the superpowers presence in Europe and to moderate ideological competition. The Cold War ended in the late 1980's early 1990's as the newly freed East European nations elected non-Communist governments and the two Germany's were reunited.
Although the Cold War has ended, a new age of military actions has begun. In the last decade of the 20th century two of these conflicts have been the Gulf War in 1991 and the Bosnian Crisis in 1995/96. What follows are the stories of several family members who served during the Cold War and its aftermath.
Most of the above summary is from Microsoft's Encarta Encyclopedia.
Back to Table of Contents
---
Tom Colthart U.S. Air Force
Back to Table of Contents
---
Charles John Coulthart Jr. (1937-present) U.S. Marine Corp
Chuck was born in Racine, Wisconsin in 1937. He is the son of Charles Coulthart Sr. and Marion Todish. In September 1956 at age 19, Chuck enlisted in the U.S. Marine Corp. He served in the Corp until February 1957 when he received a hardship discharge due to his mother's fatal illness.
Chuck married JoAnne Jenson in 1961 and they have two children: Timothy (1962) and Craig (1967). Chuck worked as a high school athletic director. He retired in the late 1990's and currently lives in Whitewater, Wisconsin. Chuck is the great-great grandson of Walter Coulthart (1820-1892) of Grafton, North Dakota and the great-grandson of John Sidenham Coulthart (1854-923) of Wisconsin Rapids, Wisconsin.
Back to Table of Contents
---
Brett Hughes (1963-present) U. S. Navy
Brett Hughes was born in 1963 in Minneapolis, Minnesota. He is the son of James Hughes and Mary Ann Cressel. Shortly after high school Brett joined the navy. He completed his initial training at Great Lakes Navy Base in North Chicago, Illinois. He was later assigned to a ship based in San Diego, California where he served for a number of years.
After his discharge, Brett returned to the Minneapolis area and became a systems analyst at Honeywell Inc. Brett is a descendant of William Coulthart (1833-1916) of Waseca, Minnesota and William Coulthart (1800-1880) of Cannamore, Ontario.
Back to Table of Contents
---
Charles James Meinke (1952-present) U. S. Army
Chuck was born in 1952 in Park Rapids, Minnesota. He is the son of John Meinke and Patricia Hughes. After Chuck graduated from high school in 1970, he attended the University of Minnesota.
In January 1972 he enlisted in the army prior to being drafted so he could select his service destination. After basic training at Ft. Ord and Advanced Individual Training at Ft. Sill, Oklahoma, Chuck was assigned to the 4th Field Artillery Detachment in Werl, Germany located near the city of Dortmund. The mission of his unit was to support the Belgian Army, a NATO Ally, in stopping an invasion of Western Europe by the forces of the Warsaw Pact should conventional weapons fail. Initially he was assigned as an eight-inch howitzer atomic projectile assembler but within a year was reassigned to a job where he was responsible for communication of nuclear release authorizations from the President of the United States in times of war. In 1973 he met a German girl, Petra Hildebrandt, and they were married a year later. Chuck re-enlisted in 1974 and remained in Germany until 1977 when the family returned to the U.S. and was assigned to Ft. Benning in Columbus, Georgia. Chuck received an honorable discharge in November 1979 and returned to Minnesota where he studied International Business at the University of Minnesota.
Chuck and Petra have two children: Melissa (1978) and Jason (1986). They live in Apple Valley, Minnesota where Chuck works as a Security Analyst for Honeywell Inc. Chuck is a descendant of William Coulthart (1833-1916) of Waseca, MN and William Coulthart (1800-1880) of Cannamore, Ontario.
Back to Table of Contents
---
Drake Fritz Meinke (1963-present) U. S. Army
Drake was born in 1963 in Willmar, Minnesota. He is the son of John Meinke and Patricia Hughes. Drake enlisted in the army after graduating from high school in 1982 and completed his basic and advanced training at Ft. Sill, Oklahoma. He made the service his career and was assigned to the following duty stations during his seventeen years with the Army: Ft. Sill, Oklahoma; Geilenkirchen, Germany; Romulus, New York; Darmstadt, Germany and Wiesbaden, Germany. He currently serves as an Intelligence Sergeant with the 85th Division Army Reserve in Arlington Heights, Illinois. During his tenure in the service, Drake has received numerous awards including the Meritorious Service Medal, Accommodation Medal and several Achievement Medals.
While stationed in Germany, Drake was assigned for six years to the 85th Field Artillery Detachment in Geilenkirken. The mission of the 85th was to provide custodial support to the German Air Force and maintain control of Pershing Missile nuclear warheads. His later assignments in Germany involved logistic and intelligence support. At the beginning of the Bosnian Conflict in 1995/96, Drake was assigned to Kaposvar, Hungary for 8 months. His unit was responsible for the logistic movement of U.S. Military Forces into Bosnia from Germany in support of "Operation Joint Endeavor".
Drake married Vicki Negen in 1984 and they have three children: Nicole (1983), Christopher (1985) and Monica (1992). Drake is a descendant of William Coulthart (1833-1916) of Waseca, Minnesota and William Coulthart (1800-1880) of Cannamore, Ontario.
Back to Table of Contents
---
Rachel Prigge (1980-present) Airman E-2, U.S. Air Force
Rachel Coulthart was born in Grafton, North Dakota in 1980. She is the daughter of Larry Coulthart and Frances Boulduc. Rachel married Ron Prigge and the couple currently lives in Yokota Air Base in Japan where she is an Awards and Decorations Specialist. Rachel is the great-great granddaughter of Walter Coulthart (1820-1892) of Grafton, North Dakota.
Back to Table of Contents
---
CURRENT NEWS
---
OBITUARIES
Wendell Eugene Hunter
Wendell Eugene Hunter, 81, died on Friday, Feb. 18, 2000, at Northfield Hospital in Northfield, Minnesota following a brief illness.
He was born on May 20, 1918 to William and MaeBelle (Harter) Hunter in Perham, Minnesota. His family moved a number of times during his childhood and he attended school in Minneapolis, rural Northfield, Prior Lake and Shakopee.
Wendell worked in the area for a time following school and then joined the United States Army in January of 1941. On Nov. 15, 1943, he married Cornelya "De" Brint in Roseberg, Oregon and they spent time together at Camp White in Oregon before Hunter was transferred overseas with the First Medical Regiment to numerous islands of the Southwest Pacific. Following his discharge he and his wife spent a year around Reston and Roseberg, Oregon where he worked as a carpenter. In 1946 they moved to Northfield and worked on his Uncle Jim's farm until 1949. They moved to Washington where they dairy-farmed for three years before returning to Northfield when he purchased his uncle's farm in 1954. The Sciota Township farm had been his grandfather's and in the Hunter family since 1865.
Following retirement, Hunter took up riding motorcycles and enjoyed numerous cycle trips.
His wife; sons William of Randolph, Minnesota and Carl of Northfield; five grandchildren and four great-grandchildren survive him. He was preceded in death by his parents and a brother, Ethelbert "Bud" Hunter. Wendell was a descendent of Jane Coulthart (1816-1892) of Northfield, Minnesota
Interment was at Oaklawn Cemetery, with military rites.
Back to Table of Contents
---
Leigh Annette Schumacher
Leigh Annette Schumacher was the daughter of Lee and Ethel (Hughes) Schumacher. She was born in the Wadena General Hospital on October 25, 1953 in Wadena, Minnesota.
from high school in 1972. Leigh Ann enrolled at North Dakota State University, Fargo, and later transferred to Wadena Tech,. She worked in St. Cloud, Minnesota as a Medical Transcriptionist at the St. Cloud Hospital.

In 1997 Leigh Ann was found to have Non Hodgkin Lymphoma. For months she valiantly fought the deadly enemy, going from one remission to another. Gradually the Non Hodgkin Lymphoma began to win the battle, and on January 16, 2000 at the age of 46 years, two months and 22 days she passed away.

Among Leigh Ann's many hobbies were gardening and raising flowers. She found great joy working in the outdoors. She enjoyed all kinds of animals and she often had more than two or three pets at a time. She was a determined person and overcame many obstacles, including alcoholism. She was a faithful member of AA.

Leigh Ann enjoyed being with people, and enjoyed socializing with them.

She is survived by her parents, a sister Lynnette of Manchester, England, a brother David of Sebeka, Minnesota, a grandmother, three uncles, one aunt and many dear cousins and friends. Leigh Ann was a descendant of William Coulthart (1833-1916) of Waseca, Minnesota and William Coulthart (1800-1880) of Cannamore, Ontario.

I will always remember my cousin Leigh Ann as the little girl in the photograph on this page. When we were children we always played together and she was one of my closest friends and my favorite cousin. Unfortunately as adults we did not see each other as often as I would have liked since we lived so far apart. Leigh Ann, I will never forget you and I will always cherish the memories of the fun we had as kids. – Terry Meinke

Back to Table of Contents

---
COULTHARD REUNION
---
REUNION REFLECTIONS by Jacqui Krech

Many years ago, when the Coulthard family of Windsor, Ontario was younger, the families were reunited at Christmas. At that time the family consisted of our parents, Stanley John and Doris Coulthard, their four children, Nina, Joan, Jacqui and Stan and each of their respective spouses. As the years passed and fifteen children had been added to the families, it became ever more difficult to get together at Christmas. Travel conditions, for those family members who no longer resided in Windsor, were not always favourable during the winter. As the children grew older, they wanted to celebrate Christmas in their own homes. We decided that the time had come to reconsider when we should have our family get together.

Our parents were married on July 6, 1929. What a wonderful time of the year to have a reunion! Thus we began to meet together on or around July 6th at the home of Nina and Harold Dresser in Windsor, Ontario. We celebrated our parents' anniversary plus had the fun of being together. Our dad was a keen photographer and this celebration was a perfect vehicle for him to take 8mm movies of his grandchildren. His favourite annual sequence was to line up all of the children, from the oldest to the youngest, on the diving board of the Dresser pool. He then instructed each child to shout his or her name before jumping into the pool. At that time he took movies of Patricia, Joanne, Bill and Tom Dresser, Michele, Randy, Sandy, Ron, Rob, Pami, and Nancy Barash, Kathy and Sue Krech, and Janet and John Coulthard.

Left to right: Jacqui (nee Coulthard) Krech of Grand Bend, Nina (nee Coulthard) Dresser of Windsor, Joan (nee Coulthard) Wakeling of Port Stanley and Stan Coulthard of Puce, Ontario. Click on the icon on the left to see a larger photograph.




Years went by and these children became parents themselves increasing the Coulthard Clan by fifteen spouses and thirty-five more children. Our parents had no idea that when they emigrated to Canada from England all those years ago, their progeny would increase by such numbers! Our parents had the good fortune to know all of their grandchildren and some of their great grandchildren. We felt that our children were very fortunate to have a Nanny and Grandpa, aunts, uncles and cousins to know, to visit and to love. When we were growing up, we had no relatives in Canada and no opportunity in those days to visit England to meet any of them. After both of our parents died, Nina, Joan, Jacqui and Stan decided that we had to organize a reunion or the families would drift apart. It was decided that we would get together every year on the third Saturday of June.

Home of Janet (nee Coulthard) and Mark Liptak in Oakville, Ontario. Click on the icon on the left to see a larger photograph.




The Twelfth Coulthard Family Reunion was held in Oakville, Ontario at the home of Janet (Coulthard) and Mark Liptok on June 19, 1999. It was a beautiful day. The sky was blue and the sun was warm, a perfect day for outdoor fun! Fifty-one of the Coulthard Clan arrived in Oakville by midmorning. We exchanged excited greetings and Pami's daughter, Nadia Salvador, made sure that we each wore a nametag so everyone would know each other. It was a good idea!
Some of the Coulthard clan at play. Click on the icon on the left to see a larger photograph.






The sparkling water of Jan and Mark's beautiful pool enticed most of the children into the water. Another group thought that the hot tub was the perfect place to be. While the children had a rousing good time, the adults could catch up on the latest family news. Jacqui had brought some reproductions of photographs of our parents taken in the late 1920's. She also had some photographs of dad as a young child and pictures of our grandparents and great grandparents. It was fun to look at them. The photograph albums of former reunion pictures were also enjoyed. It is always interesting to see how everyone changes as time goes by. Last year, when the reunion was held at the home of Stan and Mary Coulthard in Puce, Ontario, Stan

showed us some of dad's 8mm movies. The children found them very amusing! Not only was it fun to see how everyone had grown, it was also fun to see the change in clothing and hair styles. Some of us looked very interesting!

Three generations: Stan with his arm around his son John and John's son Daniel. Click on the icon on the left to see a larger photograph.





We were all pleased to learn that there is going to be a wedding in the family. Melinda Blaxhall, granddaughter of Joan (Coulthard/Barash) and Bill Wakeling is to marry Jason Jones on February 12, 2000 in St. Thomas, Ontario. That will be another happy time to be together and we are all looking forward to the wedding. We were also interested in learning more about the new enterprise that Ron's wife, Cheryl Barash, is working on. Cheryl discovered that she had diabetes several years ago. Since she has to monitor her blood sugar level throughout the day, she needed a purse that would accommodate all of the necessary equipment. There is nothing on the market for this need so Cheryl decided to design a purse for female diabetics. She researched, designed a prototype and had a leather purse made to suit her needs. It has a special place where all of her needles, pills, monitor, etc. are easily accessible. Now she is working on marketing her idea. We all wish her well. Sue Krech came to the reunion sporting a broken elbow. She had a cast from the wrist to almost shoulder level so had a slight hindrance in what she could do. It seems that she tried to slide into first base and it came up to meet her. She broke her elbow but she was safe on first!

Harold Dresser, husband of Nina with Christopher Short, grandson of Jacqui - "The oldest and youngest". Click on the icon on the left to see a larger photograph.




Janet is also involved in an interesting project. After she read about Tara Lawrence's "Hats Off for Cancer" project, she volunteered to get Canadians into the campaign. Tara, a young teen from New Jersey, lost her grandfather to cancer. She wanted to make something good come out of something so sad. She began to volunteer at cancer clinics and eventually met children undergoing cancer treatment. They told her that the most difficult time of treatment was the loss of their hair. Tara decided to provide caps for the children undergoing the trauma of cancer treatments. She contacted radio stations, organizations, schools, etc. to enlist their help in her project. Two years and thirty-eight states later, she has collected, organized and distributed over twelve thousand hats! Janet is now the Canadian Regional Director of the "Hats Off for Cancer" campaign and is busy collecting baseball -type caps and floppy hats for boys and girls with cancer. Her first group of donated hats is going to Sick Kids Hospital in Toronto, Ontario. This is a wonderful project!

Once everyone had caught up on some family news, it was time to set up lunch. Mark Liptok was the designated cook. While he was busy barbequing an endless supply of delicious hamburgers, the table was set up. A hot bean pot, a colourful array of salads, fresh fruit and vegetable platters and cheeses were happily consumed. These were followed by an assortment of tasty cookies and luscious squares. Everyone was happily full by the time the lunch was over. It wasn't long before the children returned to swimming and splashing in the pool. Some of the younger children enjoyed the swings, slides and sandbox. Others thought that the large tree house was the perfect place for adventure. There were plenty of toys and activities to keep the children amused. All too soon the day ended and we each had to go our own way again. Refreshed with good food and good times, we all look forward to our next reunion on the third Saturday of June in the year 2000.

Back to Table of Contents

---
SUBSCRIPTIONS & SPONSORS
---
Clan Coulthart is brought to you by individual sponsors and by subscription. The cost to publish one edition of Clan Coulthart currently runs between $150-250 U.S. The exact cost depends on the number of pages that are printed and mailed. Clan Coulthart is currently being distributed free of charge for a limited time to approximately 250 individuals in Canada and the U.S. with several copies going overseas. If you enjoy reading it and can afford to, please consider subscribing or becoming a sponsor. We need at least 15-25 subscriptions to cover the cost to publish each edition. We currently have 66 subscriptions. Any individual who contributes more than the subscription price will be considered a sponsor. All sponsors will have their names listed in the issue they sponsor.

A one-year subscription, consisting of four editions of Clan Coulthart, is available for $10 U.S. or $15 Canadian.

All sponsors and subscribers should make their checks payable to and mail as follows.

Canadian sponsors or subscribers send to:

Ian Coulthart
43 Wheatland Avenue Kanata, ON K2M 2L2

U.S. sponsors or subscribers send to:
Terry Meinke
1004 Ridgewood Lane
Palatine, IL 60067
[ ] Yes, I want to subscribe to Clan Coulthart. Enclosed is my check for $10 U.S. or $15 Canadian. Please send my subscription to:
[ ] Yes, please renew my subscription to Clan Coulthart. Enclosed is my check for $10 U.S. or $15 Canadian. Please send my subscription to:
Name: _____________________________________________________________________________________
Address: ___________________________________________________________________________________
City: ____________________________ State/Province: __________________________ ZIP: ________________
You can also give Clan Coulthart as a gift. All gift subscriptions will include a personalized card identifying from whom it came.
[ ] Yes, I want to order a gift subscription to Clan Coulthart. Enclosed is my check for $10 U.S or $15 Canadian. Please send the subscription as follows:
TO - Name: __________________________________________________________________________________
Address: ____________________________________________________________________________________
City: _______________________________ State/Province: ________________________ ZIP: ________________
FROM - Name: _______________________________________________________________________________
City: ________________________________________ State/Province: ___________________________________
Back to Table of Contents