134th Infantry Regiment

"All Hell Can't Stop Us"
Oscar Lofgren
Company G, 134th Infantry Regiment
OSCAR V. LOFGREN was born on Nov. 11, 1924 in Clairton, PA. He joined the service on March 3.1943 and served with Co "G" of the 134th Regiment, 35th Infantry Division. Military locations and stations included: Fort Meade, Camp Wheeler, The Citadel, Fort Benning, Camp Shanks, Codford, England, France, Germany and Walter Reed Hospital. He participated in battles at Normandy, northern France and Rhineland. Almost all of his experiences were memorable ones. He was wounded and captured on
September 10, 1944 at Flavigny-Sur-Moselle. Germans amputated his right foot in a nearby chateau. First dressing was by a Russian doctor in Hanover, Lazarettc and the next dressing was by Dr. Obradovich, former Royal Yugoslavian physician at X1-B-Follingbostel. He was discharged on September. 6, 1945 at Walter Reed Hospital with the rank of private first class. He received the Purple Heart.

Married to Gladys Shue since March 20, 1954. They have 2 children, 2 grandchildren, and 2 great- grandchildren. He is self-employed from his home in Perrysburg, OH.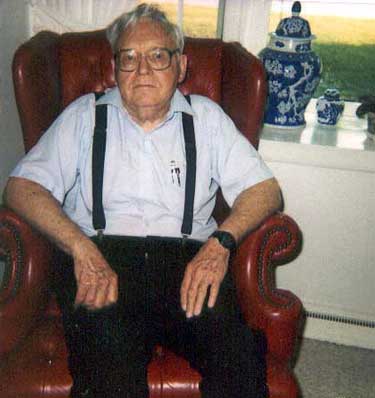 Thanks to Ms. Nancy Skrocki for submitting these photos and the biography.