HOME
ORIGINS
NAME INDEX
FAMILY HISTORIES
FAQS
COAT OF ARMS
NEWSLETTER
MESSAGE BOARD
HONOR ROLE
EMAIL
LINKS
Stanley John Coulthard (1902-1978) of Liverpool, England and Windsor, Ontario
Play the music for this webpage!
In 1899 John Roger Cuthbert Coulthard, draper of Liverpool, married Ellen Maria Grey.
Click on the thumbnail on the left to see a larger photograph of John Roger Coulthard (1866 - 1924).. The young couple settled at 57 Penny Lane, Sefton Park in Liverpool, England.
Click on the thumbnail on the right to see a larger photo of Ellen Marie Gray (aka Nellie). Their first son, my father, Stanley John Coulthard, was born on February 17, 1902. In 1904, a sister, Nina arrived.
Click on the thumbnail on the left to see a larger photo of Stanley circa 1905.
Click on the thumbnail on the right to see a larger photo of Nina and Stanley circa 1908. In 1910, a brother, Randal Stuart completed the family. A new generation of the Coulthards of Scotby and Alton had begun.
Britain entered World War I on August 4, 1914. By the time the war ended in 1918, severe economic problems had developed. By 1920 the prosperous times Britain had known during the Victorian Age, ended. Britain's export business was in serious difficulty. Its status as a world power was in jeopardy. Stan decided hopes for a brighter future lay in a new direction. His dreams of a new tomorrow settled on the Canadian shores. In 1927, at the age of twenty-five years, he left Liverpool aboard the Cunard Line and sailed to Canada.
Before his departure, Stan became engaged to Laura Lillian Doris Bancroft (1898-1988). His promise to her was that he would find employment in Canada and then, in two years, ask her to join him. Stan Jr. has letters written to Doris from Stan Sr. during the period when Stan Sr. was in Canada and Doris was in England. It was a time of great optimism for both of them. When two years had passed, conditions in Canada had not completely fulfilled Stan's dreams. He had settled in the City of Windsor, Ontario south of Detroit, Michigan, U.S.A. Although Stan had been apprenticed as an electrician in England, work in his trade was almost impossible to find in the late twenties. He eventually did find a job at Ford Motor Company, Windsor, and finally began to earn a decent wage.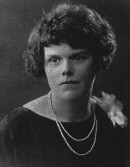 Doris sailed to Canada as promised and on July 6, 1929, Stanley John Coulthard and Laura Lillian Doris Bancroft were united in marriage at St. Aidan's Anglican Church in Windsor, Ontario. It was a strange wedding for Doris. She did not know anyone at her wedding except Stan. He had made friends during his two years in the city and these friends warmly welcomed Doris to her new country. In those days, travel was not as easy as it is today. Although Stan had hoped to return to England with Doris and visit with their families, neither of them ever saw their own parents again. My sisters, brother and I never had the opportunity to meet our grandparents, aunts, uncles and cousins while we were growing up.
During the early years of marriage, Stan and Doris resided in a duplex on Strabane Avenue. Their first daughter, Nina Doris, was born in 1930. Job changes took my parents to Francois Road. Joan Laura was born there in 1932, as was Jacqueline Helen in 1933. Three years later, in 1936 Stan and Doris were delighted when a son, Stanley John Coulthard completed the family. Subsequent moves took us to Wyandotte Street, Parent Avenue, and then to Lawrence Road. During those years, the country was in the midst of the Great Depression and life was not easy. Ford Motor Company began to lay off some of its employees and Stan lost his job. After that he had a variety of jobs even becoming a milkman with a horse-drawn wagon. Because of the economic times, his customers often could only pay him with eggs or apples. Raising four children in such bleak times was not an easy task.
Stan finally established his own automotive business, S. J. Coulthard Electric. The new business faltered and closed after a few years due to the economic conditions during the 1930s. Stan became very discouraged with life in Canada and decided that he would take his family back to England. He firmly believed everything was better there; however, the winds of war were beginning to spread through Europe and before he could take any action on his plans, Hitler had invaded Poland and World War II had begun. Stan was very concerned over the safety of his mother, sister Nina, and brother Ran when Britain joined France in declaring war on Germany. We moved from 839 Lawrence Road to 831 Lawrence Road because the latter house was bigger. Stan's sister, Nina, had married Van Robinson and now had two young daughters, Margot and Anne. English guests were expected to arrive in Canada due to the dangers of war. Stan wanted a larger home so he could accommodate any relatives who chose to come to the safety of Canada.
No one from either Stan's or Doris' family opted to come to Canada during the war. Nina, Van and their two children remained in their home and escaped to their air raid shelter when the bombs began to fall. At the age of twenty-nine, Randal Stuart, Stan's brother, joined the African Campaign Artillery in the 8th Army. Ran was a prolific letter-writer and always kept in touch with us. We were always thrilled to receive a letter addressed to all of us children. Although we never met Uncle Ran, he was the one relative that seemed to be close to us. An architect by profession, Ran kept scrapbooks of daily events that depicted the incidents that shaped his life. Theatre programmes, tickets, match box covers, snapshots, postcards and other memorabilia all organized and neatly displayed are a part of our family treasures that are under the care of my brother Stan. Ran remained a bachelor and immigrated to Australia in 1947 in the hopes of finding a more tranquil life after his own country had been ransacked by war. Fate did not allow him to follow that dream. The same day that we received a letter from him relating his travel adventures, we received a letter from England. It began "I regret to inform you that Ran has met with an accident. I am afraid his last." After surviving the perils of the African campaign, he was drowned on October 18, 1947 in Australia shortly after his arrival there. His untimely death greatly affected our family, especially my father.
In June of 1940, we moved to a smaller home on Argyle Road since we no longer expected any relatives to move to Canada. We lived in a terrace home in what was then, Walkerville. There were six attached homes in a row much like today's townhouses. Downstairs was a small living room, dining room and kitchen. There were three bedrooms and one bathroom upstairs. Stan Jr. was lucky enough to have his own bedroom. The three girls shared one bedroom. A wooden shed was attached to the back of the house and there Stan had his workshop. This home was to be a temporary living quarters until the war ended. At that time we would all be moving to England to have a better life. As it turned out, my parents lived on Argyle Road for the rest of their lives. During the forties, Stan began to work for Howitt Battery and Electric Company which was situated at the corner of Church and Pitt Streets in Windsor. He remained with this company until his retirement in 1969 at the age of sixty-seven years. He worked there both as an automotive electrician and as a teacher who trained mechanics.
During the war years, Stan worked as an A.R.P. (Air Raid Precaution) Warden. There was a yellow triangular sign on our home with a big 19 on it denoting our location as Warden Post 19. Stan took his job very seriously just as he did all work that he tackled. We had a large barrel of water stored by our home and fire extinguishers on the ready. Stan built little houses, much to our delight, for they became playhouses for us for a brief period. Then, much to our dismay, they were hauled to an empty field and set ablaze. There the other volunteers were taught how to extinguish fires. How sad it was to see our playhouses go up in flames but how fascinating it was to watch them burn and see all the activity as the fire was doused. Stan taught first aid as well and all of the volunteers were trained to handle all sorts of emergencies. This came in handy on several occasions for although we never had to face war in our own country, there were many emergencies connected to childhood accidents and we knew that there were many people Mum could call upon if Stan wasn't home when one of us was cut, bruised or injured in some childhood accident. Stan held meetings and all manner of events connected to his volunteer work and his contribution to the war effort. We found it all very exciting.
Although no one in my parent's families came to Canada, many war guests arrived in Windsor. We became friends with children from England who attended school with us. Although our house was small, Stan and Doris welcomed English guests. How we ever fit another family of three into our little space, I can hardly imagine, but we did it. Mrs. Bates and her two sons stayed with us until more war-time homes were built. Once construction was completed, they moved to Central Avenue.
Stan became interested in Baden Powell and the Boy Scout movement. He became a Scout leader and immersed himself in scouting. He trained boys to become Queen Scouts and spent many happy times at Boy Scout camps and Jamborees. He was a dedicated leader and eventually became Assistant District Commissioner for Windsor and lived the ideals that Baden Powell had visualized.
In the mid fifties, Stan suffered his first heart attack. This was a warning to slow down a little. Stan decided to leave Scouting and take up a hobby, photography. He became interested in 8mm film and spent many happy hours traveling with Doris taking pictures and discovering interesting places to visit. Although this was meant to be a relaxing hobby, Stan became engrossed and took his hobby very seriously. He joined camera clubs and studied the art to perfection. He designed an opening sequence for his movies that depicted our family crest.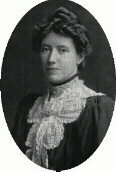 In order to have accurate information about our crest, Stan wrote to his father's sister, Frances Charlotte Hilaire Cuthbert (1868-?). We knew her as Auntie Tots and knew that she was the family historian. Auntie Tots informed Stan that our family crest contained three Catherine wheels with a demi lion rampant.
Click on the thumbnail to see a larger drawing of the coat of arms of the Coulthard of Scotby and Alton family. Stan designed an animated sequence to begin his movies featuring the crest. He became very interested in our genealogy but did not live long enough to see an edition of "A Coulthard" published.
Click on the thumbnail to see a larger photo of Stanley's grandparents, John Coulthard and Mary Jane Richards. Stan would have been delighted to learn more about our history of which he was very proud.

During the fifties Stan and Doris returned to England for a visit to check out the rebuilding of their homeland and to decide about a permanent return to Britain. Stan found the England of the fifties very different from the England he had left. Although we had been taught that all workmanship was better in England, he found things there were not as expected. Standards had changed. The war had changed people. He had not spent long hours watching out for enemy planes and living through real air-raids. He had not spent nerve-wracking hours in shelters or seen the damage inflicted by bombs. His A.R.P. work seemed like child's play in comparison to what his sister and her family had endured. When my parents returned to Canada, no emigration plans were ever discussed again.

Unfortunately during the late sixties and seventies Stan's health declined. He suffered several heart attacks and a stroke. His speech and memory were affected by this first stroke and life became very frustrating for him. Before his stroke, he had a wonderful command of the English language. He had often been asked to speak at all manner of functions. His English accent and his flow of language made him a wonderful speaker. It was very difficult for him to accept his new limitations. He continued to enjoy photography and putting sound to his movies but his health did not improve. On January 28, 1978 Stan suffered a severe stroke from which he did not recover. His strong leadership guided many young boys through their scouting years. He was a good teacher and a firm disciplinarian. What each of us has achieved in our lives, we owe to his guidance and example. Stanley John Coulthard was laid to rest in the churchyard at St. Mary's Anglican Church in Windsor, Ontario. On January 10, 1988, Laura Lillian Doris Coulthard was laid to rest beside him.

We treasure the memories of the past. The present is shaped by the ideals and morals that were part of our upbringing. Our children, our grandchildren, and great-grandchildren are our future. Our branch of the Coulthards of Scotby and Alton continues to grow.
---
For more information on this Coulthard family send E-mail to jkrech@hay.net or write: Jacqui Krech, P.O. Box 1464, Grand Bend, Ontario, Canada N0M 1T0. Additional family information is located on chart 33 of Alfred Coulthard's book " A Coulthard - The History of a Surname"