134th Infantry Regiment Website

"All Hell Can't Stop Us"
T/Sgt John G Meints
Company C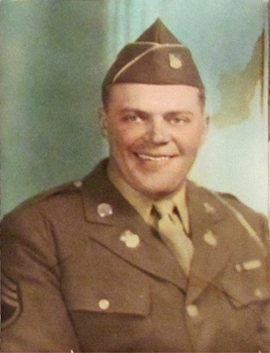 Killed in Action August 1, 1944
Silver Star Medal Citation
The President of the United States of America, authorized by Act of Congress July 9, 1918, takes pride in presenting the Silver Star (Posthumously) to Technical Sergeant John G. Meints (ASN: 37034725), United States Army, for gallantry in action against the enemy while serving with Company C, 1st Battalion, 134th Infantry Regiment, 35th Infantry Division, in action in the **** Sector, France, on 1 August 1944. Sergeant Meints was platoon sergeant of the First Platoon of Company C, participating in an assault on high ground south of **** when his platoon was pinned down by heavy enemy machine gun fire. Without hesitation, Sergeant Meints crawled around the right flank to the vicinity of the machine gun nest, and with hand grenades killed the enemy crew, silencing the machine gun. The intrepid daring of Sergeant Meints, his utter disregard for personal safety, and his determination that his platoon succeeded in its mission, regardless of obstacles, reflects credit upon his character as a soldier, and upon the military service.
General Orders 28, Headquarters 35th Infantry Division, 2 September 1944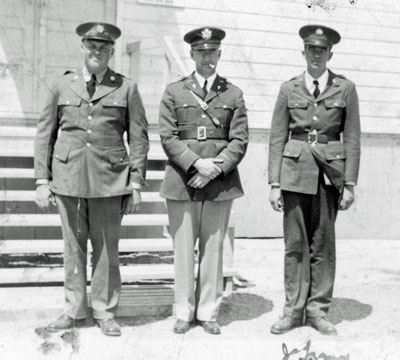 Left to right - John G Meints, John H Reents, John H Meints
John G. and John H. Meints were second cousins from Gage County, NE. In the middle is chaplain John H. Reents, Beatrice, NE. This photo is not dated, although it was probably taken prior to August 1942 when the black neck tie was eliminated. John H. Meints was killed on July 15, 1944 and John G. Meints was killed on August 1, 1944. John G. Meints was awarded the Silver Star Medal posthumously.
Thanks to Kerry Hamman, nephew of Sgt Wendell F. "Bud" Hamman, for the 1st photograph
Thanks to Lynn Lampe Salsbury, daughter of S/Sgt Alvin L. Lampe, for the Beatrice Sun, Nebraska newspaper clipping from her father's collection.
The group photo is courtesy of Vicki Iseminger, John H. Meints was her great uncle.
Also thanks to thanks to Nicholas Tuma from the Nebraska National Guard Museum for this information.