134th Infantry Regiment

"All Hell Can't Stop Us"
Pfc Leroy E. Weishaar
Company M - 2nd Platoon
Bessie and Leroy Weishaar - April 15, 1944
Pfc. Leroy E. Weishaar was with the 134th Infantry Regiment when they were stationed in California in 1943, and went to Forts Rucker, AL and Butner, NC. He is listed as a member of the 2nd platoon of Company M in the Camp Kilmer, NJ roster in May 1944. From there he was sent to France, landing at Omaha Beach with the rest of the Regiment on July 5 - 6, 1944. Two weeks before he was sent to Camp Kilmer, his fiance came to North Carolina to visit and they decided to get married in Durham on April 15, 1944. He was wounded in action on July 30, 1944 outside of St. Lo while involved with a team operating a heavy machine gun. He was sent to England to rehabilitate and was transferred to the 707th MP unit after he was cleared for duty in Oct. He shipped home in late Sept. 1945.
For many years he always went to a Company M reunion in Nebraska the 2nd weekend of June. The picture below was taken at the 1974 reunion.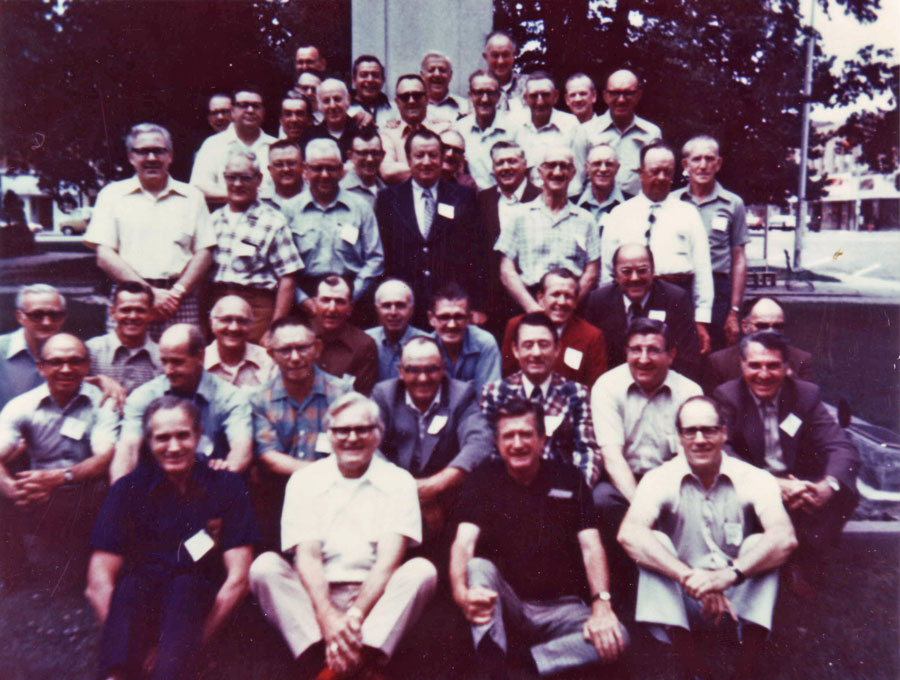 1974 Company M, 134th Infantry Regiment Reunion
Front Row: Elmer Kohout, Ed Sedlak, Bob Campbell, D.D.'Chas' Hodgkin.
2nd Row: Douglas Rudy, G.I. Smith, Bill Baumbach, Wilber Kutschau, Dan E. Craig, Ray Duffek, C.M. Erickson
3rd Row: Leroy Weishaar, Leo B. Hafer, Willard Noxon, George B. Bellamy, Loren Nieman, Alvin Kilgore, Ralph Worth, Rex K. Adams, Hershel Ehlers
4th Row: Kenneth Duerr, Milton Baker, Tom Foster, James Joska, Ernest Kosicek, Earl Hoffman, Evert Graf, Bob Rinehart, Paul Vodehnal, Arvon Jensen, Carl Bensen, Wylie Long
The Rest: Francis McElroy, Virgil Wild, Gordon Craig, Paul Jones, Julies Plisek, Ed Schulz, Dave Ost, Wilber Binns, Kenny Markle, Melvin Marshall, Leroy Peterson, Ray Nelson, William Danaby, and Ewald Boldebuck
Attending but not in the picture: Harold Christians, John Bartunek, Edward Havlovic, Lyle Gardner, and Marshall Gary
To see a group photograph of Company M, 2nd Platoon from Pfc. Weishaar's collection CLICK HERE
Thanks to Phil Weishaar for these photographs and the information about his father.