HOME
ORIGINS
NAME INDEX
FAMILY HISTORIES
FAQS
COAT OF ARMS
NEWSLETTER
MESSAGE BOARD
HONOR ROLE
EMAIL
LINKS
George Coulthart (1859-1944) of Cummertrees, Scotland and Shoalhaven, Australia
Play the music for this webpage!
George Coulthart was born on February 25, 1859 near Cummertrees in Dumfries County Scotland. He was the son of Christopher Coulthart (1819-1900), a forester at Kinmount, an estate about one mile north of Cummertrees, and Margaret Graham (1816-1869). George had five brothers and sisters: Nancy, Thomas, Margaret, James (1845-1890) and Christopher (1848-1918). George immigrated from Scotland to the Shoalhaven District on the South Coast of New South Wales, Australia in 1881 and plied his trade as a blacksmith. His betrothed Amelia Jane Burgess followed in 1885 and they married the day after her arrival in Sydney. They settled at Numbaa (a rural area about 10 km from Nowra) where they established a dairy farm (see photo above right), which is today owned and operated by Bruce and Jeanice Coulthart and their son Christopher. George and Amelia had eight children: John (1888-1963), Christopher (1888-1971), William (1889-1964), James (1891-1962), Amelia (1893-1962), George Graham (1897-1963), Margaret (1902-1966) and Clyde (1905-1908). George's older brother James, immigrated to Victoria, New South Wales, Australia in 1888. George died on July 7, 1944.
---
The Children of George Coulthart and Amelia Burgess
John Stronach Coulthart (1888-1963) married Anne Margaret Lamond and they had five children: George David (1923), Heather Josephine "Josie" (1924), John Stronach (1927-1948), Douglas Murdoch (1928) and Barbara Enid (1929).
George David Coulthart (1923) married Nancy Duncan and they had three children: Margaret, David John and Alison
Heather Josephine Coulthart (1924) married Arthur Dawson and they had three children: John Charles, Paul Robert and Neil Arthur.
Douglas Murdoch Coulthart (1928) married Margaret June Lumsden and they had three children: Sandra Joy (1953), Gregory John (1956) and Jennifer Mary (1961).

Sandra Joy Coulthart married James Watters and they had one child: Sarah Jane (1980). They were divorced and she married her second husband David Mattison and they had one child Emily Jane (1990)
Gregory John Coulthart married Kim Bratby and they had three children: Sharnah (1980), Kirra (1984) and Toby (1988)
Jennifer Mary Coulthart married David Grant and they had two children: Jason (1986) and Rebecca (1989)

Barbara Enid Coulthart (1929) married Frank Milton Archer and they had three children: Ian Morris, Graham Milton and Stuart.
Christopher Coulthart (1888-1971) married Olive Evelyn Saunders and they had two children by adoption: Stanley Cleve (1925) and Ruth.
William Burgess Coulthart (1889-1964) married Kathleen Aldous. William and Kathleen had five children: Mary (1922), Betty (1923), Joan (1924), William (1926-1976) and Kathleen (1929-1971).
James Coulthart (1891-1962) married Irene Ganderton and they had three children: Jean Amelia (1915), Clive Thomas (1920) and Mavis. (1922)
Amelia Coulthart (1893-1962) married Jack MacKay and they had four children: Angus, John Burgess (1924), Kenneth (1928) and Nancy Allison.
George Graham Coulthart (1897-1963) was born in Shoalhaven. He married Mary Ann (Marie) Evison on March 28, 1925 and they had four children: John Graham (1926), Donald Leslie (1928-1990), Marie Georgina (1932) and Bruce Melville (1938).
John Graham Coulthart (1926) married Joan Morison (1925) and they had four children: Margaret Anne (1951), Pamela Joy (1953), Helen Marie (1956) and Lynette Gai (1961).
Donald Leslie Coulthart (1928-1990) married Patricia Averil McGee (1929) on 22/11/1952 and they had three children: Robert Neil (1953), Elizabeth Jane (1955) and Graham Roye (1961).

Robert Neil Coulthart (1953) married Lynda Anne McCarthy (1955) on 25/2/1978 and they had two children: Gregory David (1/5/1982) and Jillian Anne (15/11/1986).
Elizabeth Jane Coulthart married Peter Neale Jones on 24/9/1977 and they had three children: Tanya Elizabeth (21/4/1981), Amanda Jane (8/4/1983) and Mark Neale (26/11/1985)
Graham Roye Coulthart married Leigh Sharon Decker on 20/8/1983 and they had two children: Jocelyn Leigh (17/3/1986) and Matthew Graham (10/1/1988).

Marie Georgina Coulthart (1932)
Bruce Melville Coulthart (1938) married Jeanice King and they had three children: Bronwyn Mary (1963), Jennifer Ruth (1965) and Christopher Bruce (1969).
Margaret Coulthart (1902-1986) married William Redvers "Ref" Evison and they had three children: William Clyde (1928), Margaret Jean (1931) and Robert Redvers.
Clyde Coulthart (1905-1908)
---
If you have additional information about these Australian families please send it to: meinket@yahoo.com or write: Terry Meinke, 1004 Ridgewood Lane, Palatine, IL 60067 U.S.A. so this webpage can be updated and/or corrected. For more information on the George Coulthart and Mary Ann Evison family send email to: coulthart@shoalhaven.nsw.gov.au or write: Rob Coulthart, 14 Woorin Close, Bomaderry, 2541, New South Wales, Australia.
---
Sources
Chart 17 from "A Coulthard" The history of a Surname" by Alfred Coulthart.
Email from Rob Coulthart from Bomaderry, New South Wales, Australia.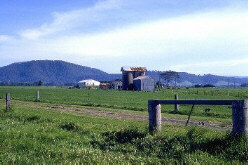 The photo on left is another view of the Coulthart dairy farm in Numbaa. The photo on right is of the Camberwarra Mountains.